The Foxes girls soccer team has fought through a lot of tough games, but their gritty perseverance during the 2023 WPIAL Class 4A championship game earned them something no other team in the program had been able to do in 38 years – come away as WPIAL champions.
It was a total team effort all the way into overtime when, within 10 seconds, senior all-WPIAL and Big 56 first-team senior midfielder Kate Friday blasted a kick into the top right corner of the net to win the game, 1-0.
Kate, a Xavier University recruit, recalled her thoughts at that moment: "I couldn't believe my shot hit the back of the net, and when it did, I felt pure excitement, joy, and most importantly, I felt a rush and wave of pride. It just feels so amazing to work so hard at something for so long and for it to finally show in just the time span of 10 seconds."
She continued, "I never felt so close to my team. I could not have scored without every single one of those girls standing on the field, standing by the bench, or even the fans in the stands cheering for us. I think it showed how hard we work during games and how strong our desire is to be the best we can be, even if we are the underdog."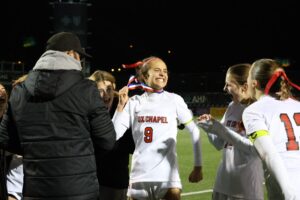 It was speedy and agile junior midfielder and Big 56 all-section second-team player Alyssa Quackenbush – who owns eight goals and 19 assists so far this season – who fed Kate that final ball amid a tense overtime atmosphere.
"In the very beginning of overtime, we were very anxious but got ourselves under control and were able to string passes together," recalled Alyssa. "(Freshman forward) Emily McKee (who was voted to the all-WPIAL and Big 56 first team) was able to give me a perfect through ball to break their defensive line, so I was then able to find Kate wide open in the midfield to finish it off."
"It was one of the nicest goals I have ever seen," commented second-year coach Carlo Prati. "North Allegheny did a really good job stopping us from going outside to our wingers, so we had to make some adjustments to get those girls on the ball more because they have been dangerous all year. We knew we had to be a lot more patient and pick our moments to attack."
It was the incredible finish for which the underestimated team had hoped.
As title holders, the Foxes now get homefield advantage in the first round of the PIAA championships on Tuesday, November 7, when they face their counterparts from Hempfield High School in Landisville, Lancaster County.
"States is an all-new territory for me as a coach," said coach Prati, the 2023 WPIAL Class 4A Section 1 Big 56 coach of the year. "I've never been there, but we're looking forward to the challenge."
Defense Mighty Force All Season
The players and coaches knew what had worked offensively and defensively in the first two playoff games was not necessarily going to work in the finals against North Allegheny, a team the Foxes had lost to by one point twice during the regular season.
Coach Prati had the girls prepared in the two days between the semifinals and finals. He strategized by giving them reports for each playoff game, listed what opponents did well, and pointed out what his group needed to do.
That strategy proved effective, especially for the defense, which never gave up throughout the 80-minute-plus final game during which North Allegheny had considerable opportunities to score. Senior captain, all-WPIAL and Big 56 first-team player  Anna Troutman anchored the defense at that game and all year, with stellar contributions from juniors Bella Urso and Maya DiPasquale, freshman Caylie Wilkinson (Big 56 honorable mention), and freshman keeper Lia Pizzella.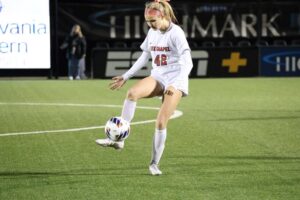 "Our defense is all super talented individually; the key was bringing us all together to play as one," said Anna, a Foxes record-holder in track and field, who just accepted a scholarship offer from Lehigh University. "Developing that was just time. The more games we played, the better we could read each other. I think one of the strongest aspects of our defense is being able to cover for one another. If someone gets beat, or if someone gets out of position, someone else steps right in. We work very well together."
"I was a little nervous coming in due to not playing with the team as much as others, the pressure of being in the playoffs, and being a starting freshman," said Lia who had only started twice during the regular season and then the first two games of the playoffs. "I was the most nervous for North Allegheny, as the environment and crowd were a little intimidating. Although I was nervous, I knew that I was ready and that we could win. I just tried to play my game and do the best I could."
"Our defense has been our backbone all year," said coach Prati. "They all work so hard to keep us in every game and, with a young goalie in net, you need girls who are shot-blocking as much as you can to let that goalie gain confidence. They have not allowed many shots on our net. They have been awesome for us all year."
Anna added, "It feels so surreal to know we are WPIAL champs. Thinking back to the beginning of the season, I would have never expected this. We got all the puzzle pieces to click at the right time and took advantage of our opportunities. I'm so grateful to be a part of this team and made a memory that will last for life." 
Some of those memories made were not even on the field. In the days leading up to the playoffs and the finals, there was a touching show of support for the team from many people associated with the sport, both past and present.
"It was so moving for all of us to receive videos from former Fox Chapel Area players from that 1985 championship team," coach Prati said. "In the few days leading up to the championship game, many former players, parents, and coaches reached out and said they were cheering us on from all over the country. It was so special and really did mean a lot to us. We also found out that one of those former players on the 1985 team is (freshman starter and leading scorer) Emily's aunt, so it was a pretty cool moment."
Actually, there have been a lot of cool moments this season, and everyone is hoping there are many more to come.
Other members of the Fox Chapel Area girls varsity soccer team are seniors Sage Good, Addison Jump, Megan Mulhern, Sydney Schutzman, Madeleine Stone, and Lila Valkanas; juniors Maya DiPasquale, Madeline Grimsley (Big 56 honorable mention), Gianna Patterson, and Paige Solomon; sophomores Cassie Classen, Summer Hill, Emily Korczynski, and Lily McLaughlin; and freshmen Antonia Linzoain, Emily McKee, and Taylor Wilkinson.