There's nothing that pleases a coach more than when his or her team works together as one unit toward a common goal – regardless of what the scoreboard shows at the end of the competition.
So, new field hockey coach Michelle Couch couldn't have been happier when her players demonstrated just that during their September 27 game against rival North Allegheny High School. North Allegheny abruptly ended the Foxes season last year early on in playoffs by winning 1-0. And, to make this year's performance even sweeter, the Foxes won 1-0 in overtime, and have continued their show of unity ever since.
"I was super proud about how the team played," says Coach Couch. "Our true teamwork is showing. Since day one we have been focusing on the motto 'One Team, One Family,' and creating an atmosphere where every player, not just a handful of individuals, has the confidence and motivation to go out there and give 110 percent at every practice and game."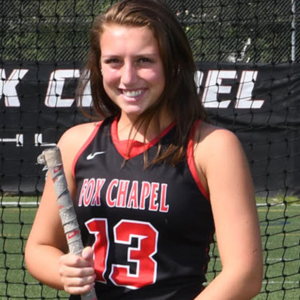 Bryn Gerlach, a junior midfielder, sums it up this way: "On the field, there is no one star. After our games, we all collectively agree that our win was a team effort. This mentality of winning as a team encourages us all to work with each other so we can continue winning as a whole."
"To have a variety of girls finding the back of the cage is an advantage for us," comments Coach Couch. "When teams scout us now, they have to worry about a handful of players rather than just one or two top scorers."
Among those players is senior Sydney Condron and juniors Mary Ellis, Ellie Markel, and Sloan Rost.
Additionally, both senior captains – keeper Marissa Hardiman and defender Rebecca Klaas – are proving to be a great combo directing the rest of the team from the backfield.
"Our defensive unit has been working on communicating a lot, applying pressure, and staying patient. I think in the past they had a mindset of just running to the ball and trying to win it, and I've been focusing on us playing patient, good solid defense," says Coach Couch, a former field hockey player herself.
"Our captains do a phenomenal job of leading us on and off the field," Bryn says. "The other seniors, including Sydney, Emily Ben, and Olivia Hourvitz, work just as hard to ensure all of us are giving 100 percent and are also having a fun time doing it."
The juniors also have transitioned into leadership positions and are making sure that everyone is putting forth their best efforts. In addition to Bryn, they are Mary, Ellie, Sloan, Meg Matthis, Abby Troutman, and Lizzee Wonderley
"I might not be the most skilled player on the team," Bryn says honestly, "but I like to think I'm a good player who works hard in practice and even harder in games. I play for the team, not myself."
The girls are hoping that their unselfishness will help them reach their ultimate goal of getting to the WPIAL and PIAA championships.
"Every player has her heart set on another run in the playoffs, and that motivation seems to be getting them where they want to be ­– as a team and a family," adds Coach Couch.