Foxes' new girls head volleyball coach Diana Andreyko had stellar careers in youth, high school, and collegiate volleyball; played the sport in Europe at the highest pro levels; and earned national and international acclaim. After she retired at age 27, "Coach Dee" eventually returned to Pittsburgh, coached for a few club teams, and then, two years ago, became the Foxes' assistant coach. This year, the team is all hers.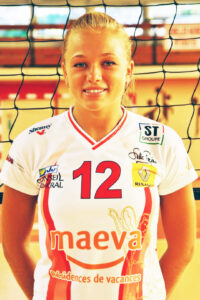 However, leading the team under such unprecedented circumstances isn't exactly the way she thought she would be starting off the season. But she says, "I'm really looking forward to being able to pass on to the girls the knowledge that I have about the game."
A Start from Early On
Born in Europe, Coach Dee began her own volleyball career early when she was six-years-old. When she was 13, she began playing with the Ukrainian Junior National Team and was training with the senior team. In the summer before ninth grade, her family moved to the United States, and she tried to continue playing here. Things don't always work out as planned though.
"The first school that I attended did not work out, as I was never given an opportunity to play," explains the University of Pittsburgh graduate who still holds the womens volleyball record for most kills. "I did, however, start club volleyball my freshman year. From then until I graduated from high school, I played for the club team Pitt Elite and Baldwin High School. At Baldwin, I played and started from day one until I graduated."
Lifted by Coach Andreyko's contributions, her high school team won several section titles, the WPIAL AAA title in her junior year and senior years, and her squads went to the PIAA semifinals, also in her junior and senior years. When she was a sophomore, the team made it to states, but they lost in the quarterfinals. Her talents were recognized by All-WPIAL and all-state designations three years. The player who was once bypassed for a shot at playing, then was heavily recruited by Division I schools and went on to become a two-time all-American honorable mention player.
After high school, Coach Dee She accepted a full athletic scholarship at the University of Pittsburgh where she was a four-year starter. There, she was named Big East Rookie of the Year and voted to the Big East All-Conference first team in her sophomore, junior and senior years. As a freshman, Coach Dee was named to the conference's honorable mention squad. The 5'11 former pro player received the exact same accolades from the American Volleyball Coaches Association and was its northeast region rookie of the year. When she graduated from Pitt, she left behind a legacy as the all-time kill leader, with 1,852.
"It was my goal from the get-go to beat the former leader, and I did it," says Coach Dee, who then went on to play at the highest levels of pro volleyball in Europe for nearly six years.
For the past two years, the club and international coach has walked the courts at Fox Chapel Area High School and her players are very pleased with her promotion.
One of Coach Andreyko's former players, recent Foxes' grad Jess Klein, describes her this way: "Coach Dee is an amazing player and coach. The team is lucky to have her. She has a tough-love approach in which she praises a player and helps them, but she also is willing to call you out if you are not giving your best."
The team is set to start the 2020 season Tuesday, August 25, with a multi-team scrimmage.