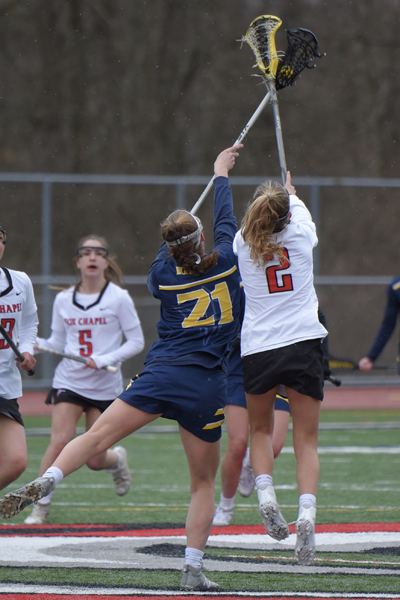 There are a few things about Mary Ellis that you can't help but notice the first time you meet her. She has a refreshing, effervescent personality. She is the epitome of positivity. And, more than anything, she has an absolute love for lacrosse that began years ago when her older brother took her under his wing and taught her the game.
The newly appointed junior captain has taken all of those good things to the field, along with her otherworldly stick skills, and is a major reason why her team just clinched another section title with a 10-1 record, and earned a first-round bye in the WPIAL Class AAA playoffs.
"When I first saw Mary play, I thought she was insanely good," says Interim Head Coach Corrie Anderson. "She was tiny, but so fast, and she was all over the field. She's a player who is really fun to watch, and she has the kind of skills that draw people to a game just so they can see her play. But what I really love about her is that she is a totally unselfish, team-oriented player."
Mary's stats prove what her coach claims, and more. Although Mary probably could have scored a lot more goals herself, she has already blasted the former school record for career assists set in 2017 by Meg McCrady (108), who now plays for Georgetown University. At the end of this year's regular season, Mary has 229 career assists and 93 career goals.
Of her penchant for creating assists, Mary says, "I used to think I needed to go to the cage more and get more goals, but I'm just as excited when I pass the ball to a freshman, and she scores."
She's also excited to be getting a lot more draw controls this season and adds, "I get such a rush when I'm on the circle. It makes me really happy when I'm playing there."
Determined to Prove Herself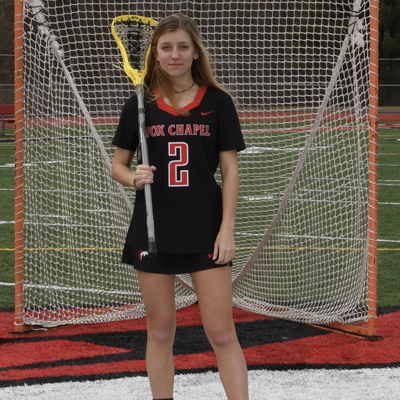 "When I was younger, I always scored a lot of goals, but then, I went through a phase when I didn't score as much," says Mary, who moved to the area in fifth grade from New York, a hotbed for lacrosse. "I was really small, and I still am, and I saw that all of the other girls were so much bigger than me, and I was scared."
That intimidation led to an amazing determination to succeed.
"My brother, who is my idol, used to play when he was in high school, and he told me then that I needed to change things up," says Mary, the youngest of five siblings. "So I went to the field and practiced, and I played wall ball in my garage over and over again, usually from about 8 to 10 every night. I put duct tape on the wall as a target for my aim, and just worked super hard doing rep after rep after rep. I honestly don't know how my neighbors could stand hearing those balls constantly hitting the wall!"
Today, Mary still plays with that same willpower and says, "My mother always tells me that if I want something, I need to go out and get it, and that's what I do. I play like it's my last game every game, and it's the best feeling in the world to know that I've given it my all."
A Lot of Help From Friends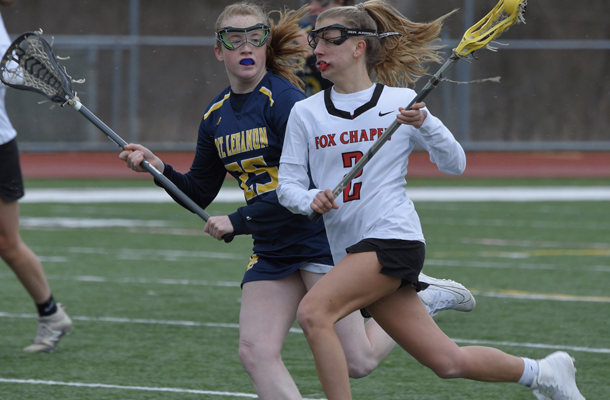 Even with the stats Mary has worked so hard to earn, she still recognizes her teammates, not only for what they have done to make her job easier, but also for their talents and the leadership they have demonstrated through quite a few changes over the past few years.
"Our defense has had a killer season," says the University of Maryland-Baltimore County recruit. "Everyone has gotten into very good shape and we really like to push ourselves. We're ready for the playoffs and expect a lot from ourselves."
The squad will get a chance to do that at the program's fifth consecutive WPIAL Class AAA playoff appearance the week of May 13, 2019. Last year, their season was rudely interrupted in a surprise first-round upset loss to Pine-Richland after Fox Chapel Area had been a favorite to win the championship. This season, the team rallied with a revenge win over Pine-Richland during the regular season.
"We know we're up for some tough competition in these next few weeks, but this team has it in them to be great, and I know that's what we'll see in the playoffs," predicts Coach Anderson.
According to Mary, "I really think we have the right mentality this year. We can't go in thinking about the outcome and whether we're going to win or lose. We just have to work our hardest to win each game."