Lorenzo Jenkins has surprised everyone but himself this football season. While his coaches recognized his raw talent and potential last year when as a freshman, they were a little surprised, but very pleased, with how quickly he had progressed in the offseason, and how hard he worked to get where he is today.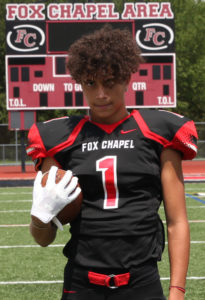 Currently, Lorenzo, a wide receiver and cornerback/safety, leads the team in receptions and interceptions. His athleticism, speed, size, and impressive vertical leap have resulted in more than a few crowd-pleasing catches, including some that have been one-handed. When he's not catching passes, Lorenzo has been a playmaker on defense, too, with his blocking abilities and aggressive style of play.
Just recently, in the Foxes' upset victory over Mars on October 11, Lorenzo had four important catches, including a one-handed reception that led to a game-tying score. He also had an interception that resulted in a 39-yard run that set up a field goal and put the Foxes ahead 17-14 at halftime. His fourth reception came in the fourth quarter, on the Foxes' final possession, when Lorenzo helped maintain ball possession and allowed the clock run out, resulting in a 30-28 win.
Head coach Tom Loughran says, "Lorenzo has really stepped up and done very, very well. He has great hands, is competitive, and does his best to do what we ask of him. He's done a lot of good things this season, and we know he is capable of even more over the next few years."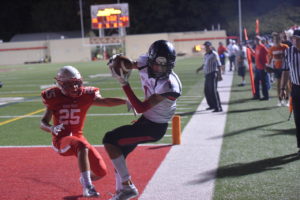 Early Start in Sports
When Lorenzo was only about 18 months, his father and grandfather taught him how to golf. His second experience with sports came when he started playing youth soccer, at which he excelled. But he left soccer behind once he started to play football when he was 11 years old. He was naturally good at it and fell in love with the game. But when he reached the high school level, he experienced a lot of unexpected growing pains.
"When I was a freshman, things didn't go so well," Lorenzo admits. "My first varsity game was my worst ever. I was very nervous and probably not quite ready to go against the older kids. I found out quickly that I needed to man up and get mentally tougher. Plus, I've always been a really skinny kid, and I knew I had to start eating more to play against the older kids."
Since then, Lorenzo put on 15 pounds, grew two inches to reach 6'2", spent the offseason lifting weights, working on condition and agility, practicing his vertical leap, and studying the playbook.
"I think my biggest improvements over last year are just my knowledge of the game and knowing all of my plays; I've memorized the playbook and know my positions well," says Lorenzo, whose pro favorite is former wide receiver Randy Moss. "I've a worked a lot with Sam (Brown, senior running back/defender) and more than anything, he has especially shown me about having a great work ethic."
Another person who has made a huge impact on Lorenzo is his father.
"When I was young, my dad was really strict, and he still is today," Lorenzo says. "But as I get older, I can see how it's helped me, not only on the field and in the classroom, but life in general," says Lorenzo.
He says that one thing his father always preaches is to be a leader, not a follower. And, from the looks of things, it appears as though he is doing just that.