Lexie Schutzman has played sports since she was a kid, but she probably never imagined that her love of soccer, combined with her dedication to helping others, would somehow merge and earn her not one, but two Most Positive Athlete awards in girls' soccer.
Her story of leadership on and off the field is so compelling that it captured the attention of producers from CNN's "Headline News," who create special segments celebrating some of the country's most extraordinary student athletes.
Only a junior, Lexie earned the back-to-back awards for her athletic skills as a midfielder on the Foxes' championship girls' soccer team, but what impressed the judges even more is her optimism and dedication to helping students with disabilities.
Lexie will be officially honored at the Positive Athlete Award banquet June 12 at 7 p.m., at the Heinz History Center, but this year she's had a pretty unique experience leading up to the event. A CNN crew was in the Fox Chapel area last week and followed her for nearly five hours to document a typical day in Lexie's life. The resulting "Headline News" special segment will celebrate her extraordinary efforts when it airs May 30, 2018, between 3:30 and 3:45 p.m. It also can be viewed on www.cnn.com/specials/cnn-positive-athlete.
An Early Passion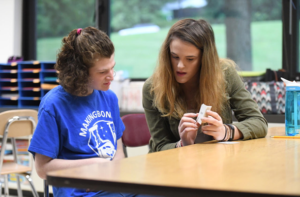 Lexie's passion for soccer and the excitement she says she feels every time she steps on the field, is only matched by the joy she gets from helping others. It's a generosity of spirit that's been handed down from one generation to the next. Lexie's mom, Stacie Dojonovic, is the transition coordinator in the high school's educational support department, and has always encouraged her daughter to pay it forward.
There are not many seventh graders whose trajectories include founding a club that promotes positive interactions and inclusion among all students, but that's exactly what Lexie did. Then, when she got to high school, she joined the larger Best Buddies club and has since served as its president for the past two years.
With 275 members, Lexie is very proud of the group, and not only because it's the most popular club at the high school. Under her leadership the club has ventured into new areas, particularly the sports arena, and some of the group's best projects have come from Lexie's inspiration and eagerness to promote inclusivity for all.
For example, she says, "This winter, Best Buddies organized the school's Snowball Dance. It was open to everyone, with or without disabilities. Some of the kids were really excited because they might not have been able to participate in homecoming or go to the prom as everyone else does, but being all dressed up and feeling included had them smiling the whole night."
Inclusive Sports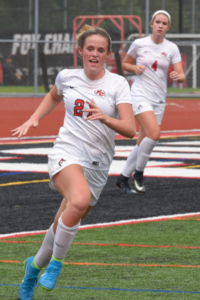 When it comes to sports, Lexie has played quite a few of them, but eventually settled on soccer. The camaraderie and thrills she gained through athletics have played such important roles in her life that she wanted her "best buddies" to be able to experience them too.
While all students are permitted to try out for the various club and interscholastic sports the school offers, many special education students may be limited in what they are able to do. When the school district was approach by Special Olympics to create a unified sports team, the educational support and athletic departments were eager to participate and organized a bocce club team. Once the program was instituted, Lexie was a key contributor to its success.
"It's unique because all kids, with and without disabilities can join, and it's just a very cool thing," Lexie says. "In our first year, we sent two teams to the countywide match and one of them won gold!"
That love of sports also triggered her idea to get special education students more involved with her own high school soccer team.
"We have about four or five kids who serve as ball boys and ball girls at most home games," says Lexie, who had the full support of her coach, Peter Torres. "They warm up with us on the field and just really look forward to being there. One student was so excited about being at the game that the next day he forgot to put his books in his backpack and just brought a soccer ball!"
Life Skills Lead to Independence
In addition to her work with Best Buddies and inclusionary sports, Lexie also serves as a peer helper in the special education life skills classroom.
"It's something I really enjoy doing," says Lexie, who says she spends a number of hours each week working with special needs students. "Typically, I will get a group of students and help the teacher with a lesson, or sometimes go to Giant Eagle with a group of maybe 15 kids. I will get my own small group and I'll teach them community-based skills that will help them live independently after graduation… things like how to find items in the grocery store, and how to check out and bag them."
Good Deeds Rewarded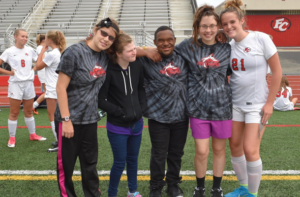 It's not hard to see why Lexie has been cited twice by the Positive Athlete Award committee as the girls' soccer player of the year. Her talents also led to a scholarship offer to play on the women's soccer team at NCAA Division II West Chester University after she graduates in 2019. The team was the Atlantic Region champion last season and finished with a 17-3-3 record.
Lexie is thrilled with the possibility of playing soccer at the next level and, best of all, she'll be able to continue on with the two things she loves best as Westchester has a great program in special education, her chosen field of study.
"Besides being a great athlete, Lexie is a very special young lady whose heart is genuine and filled with love and respect for everyone," says Fox Chapel Area School District Athletic Director Mike O'Brien. "She loves being involved in activities that support and encourage inclusion and we are very proud of what she is doing for her fellow students and our community."
"Some people see disabled students as being very different, but they are just like any other person," Lexie says. "I am blessed to have such a strong relationship with students who are physically and mentally challenged. They are an amazing group of kids."