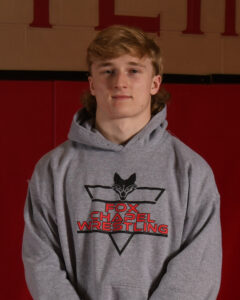 Foxes wrestler Trevor Katz has a lot of strong traits. He's an intelligent student who was recently named an academic All-American in wrestling. He has participated in the sport since he was in elementary school, and this season, the senior was named a captain of the team. For the second year, Trevor medaled at sectionals, advanced to the Class 3A WPIAL individuals, and earned several medals during the past few years at the highly competitive Allegheny County Wrestling Championships. Trevor credits much of his success to the discipline and grit he has developed from his hundreds of grueling practices and matches over the years that tested his strength, endurance, confidence, and will to succeed.
This spring, Trevor took on a new kind of challenge when he signed up to become a student visionary for the Leukemia & Lymphoma Society (LLS) and applied many of the principles he'd learned through wrestling. When the final tally came in, Trevor had set a new student fundraising record of $250,000 for the region that includes Western Pennsylvania, West Virginia, Cleveland, Western New York, and New Jersey. In recognition of his efforts, Trevor was named Student Visionary of the Year for 2023.
Throughout the campaign, Trevor got a little help from his wrestling teammates and many generous people from the Fox Chapel Area and beyond. He says going outside the realm of athletics and raising money for sick children with blood cancers was a very satisfying experience. "I believe going into the community outside of sports is very important. I have been really inspired by the children who have to battle cancer at such a young age."
Trevor's success in helping these families comes from a deep-rooted respect from what he has learned as a wrestler.
"In wrestling, you can never give up," says Trevor. "I thought wrestling was tough, but when I see these children help their parents remain positive during one of the toughest battles they'll ever face, it definitely was something harder than anything I've ever done in my life. It's been really special seeing them always happy. A lesson these very sick kids taught me is that no matter what it is, you need to try your hardest. If you do that, you won't live with any regrets. So, when it came to my campaign, I thought, 'How can I go halfway when they are fighting their hardest each day?'"
Trevor's concern for others doesn't surprise his wrestling coach, Michael Frank.
"From a leadership standpoint, Trevor stepped up as team captain and helped bridge the gap between the coaching staff and a very young team," says coach Frank. "He showed them the work ethic that is necessary to find success both on and off the mat. He also was instrumental in pulling along some of the upper-weight wrestlers, and they found success as the season progressed. Additionally, Trevor was the wrestling team leader with a 4.3 QPA over his high school career."
Trevor's interest in philanthropy is personal. His cousin was diagnosed with chronic myelogenous leukemia in 2003 when she was only 11 years old, and it was his father who started a family tradition of raising funds for the LLS. Now in remission 20 years later, his cousin's life was saved by a medicine that was developed through research supported by the LLS.
"It is truly amazing how people remain positive through the toughest of trials," Trevor says. "I did this because of the true fighters and heroes who have inspired me through their battles with cancer."
A leader in everything he does, there is no doubt Trevor will continue to have a positive influence when he begins college at Penn State in the fall. There, he wants to remain involved in some capacity with the activities that have had such a life-changing influence on him – wrestling, and, of course, philanthropy.