Jess Klein took some time off from volleyball and training this summer to take a life-changing trip to Europe. While visiting London, England, and Berlin, Jess and a group of about 12 other Fox Chapel Area students learned more about the history of World War II and other cultures. But, by the time she landed back home, Jess was ready to get back to her team and what's been her passion for the past five years.
A 2018 WPIAL Class 4A volleyball all-section pick, Jess has taken on some new roles this season. First, she's back to playing outside hitter after being the libero last year. Also, she knows, as one of the most experienced players, that she needs to lead by example. That's not a problem. She has an extremely positive attitude, great competitive spirit, an ability to inspire others, and possesses a selfless attitude when it comes to putting the team above her own personal goals.
Her list of activities beyond sports supports just how much of a born leader Jess is. She is a member of the National Honor Society and has been a student government senator all four years of high school. She served as president of the organization's community outreach committee in her junior year and will do the same this year, and was junior class vice president. Her efforts in the community benefit the Pittsburgh Food Bank and she works on the Earth Day clean-up crew.
One Team, One Goal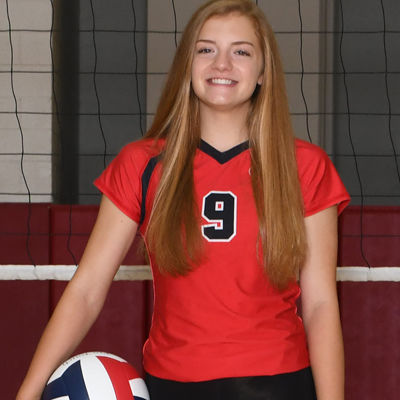 "Sure, I want to improve upon my skills," Jess says about her own athletic goals, "but I really want us to push ourselves as a team, be competitive in every game, and make the playoffs. All of us definitely were really uneasy about how we finished last season, but this year I think we have a better team atmosphere and we have a great group of solid players."
A two-sport athlete (she plays centerfield for the Foxes' softball team), Jess and some of her volleyball teammates consistently participated in the school's strength and conditioning program over the summer. She felt it was important to train as a group so they could bond.
"Volleyball is such a team sport," she says, "and that's what I love about it. I like the intensity of the game – you're constantly moving. And you have to have great communication among all of the players, even from girls who are not on the court, because they might see things that we don't."
DMS Coach Convinces Her to Play
"I've played softball since my T-ball days when I was about five or six," Jess says, "but I hadn't given any thought to playing volleyball until one of the middle school coaches started to recruit me in fifth grade."
As Jess tells the story, "Mr. Laun kept telling me to play and nagged me until, finally in seventh grade, he 'coerced' me into going to a practice! I've played ever since then, and my main passion has switched from softball to volleyball. There's nothing else like it, and I really love playing."
Hoping for a Better Season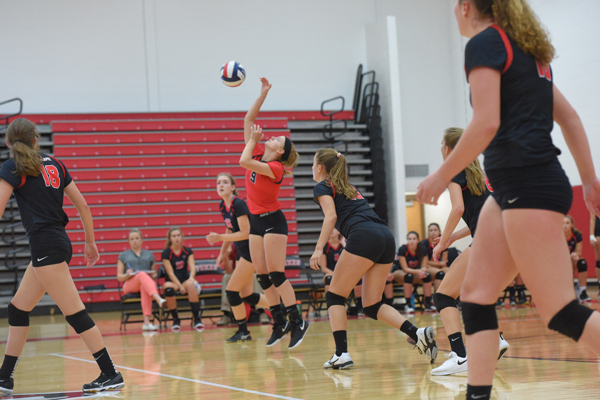 "I think we have a great mix of experience this year, and I honestly couldn't ask for a better group to play with," Jess says.
She's quick to point out her senior teammates and the underclassmen who should contribute to their success this season: Joanna Delaney, Rachel Ferris, Madison Heininger, Abby Kieffer, Maddy Kieffer, and Jasmine Macdonald. Additionally, Jess says a number of underclassmen are solid players, including Eliza Auffenberg, Emma Begg, Athena Demetri, Allison Hager, Katie Heidenreich, Lauren Himmel, and Alwyn Williams.
"We lost a lot of our hitters from last year (due to graduation), but I think we'll compensate through our great defensive skills, ball control, and aggressive serves," she says. "We also need to have good ball placement, and we need to play smart."
Those are skills and strategies that Coach Phil O'Keeffe and his staff are stressing too. Now entering his third year as the girls' head coach and 18th with the boys, Jess says the coaching staff and players now have had time to get used to each other and she's looking forward to the coming season.
"Our coaches have really pushed us hard, but I think that's what we needed," Jess adds.