Going into the WPIAL Class 3A diving championships held February 25, sophomore Jackson Hagler felt confident in his ability to do well, but he was nervous because the competition was so good. Nevertheless, he overcame any jitters he might have had to finish with a score of 425.30 in fourth place, and that earned him a second consecutive appearance at the PIAA Class 3A championships.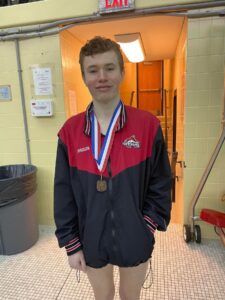 "There were no dives that stood out for me today, but I am extremely excited I was able to execute my backs and reverses the best I have in the meet today," Jackson says of the six different dives of varying difficulty that each athlete is required to perform. "I hope to carry that forward."
During the season, Jackson's strategy wasn't to jump into adding more dives but to refine and perfect his existing dive list. He explains, "I am happy with how I was able to improve them over the season."
And he did that. Last year Jackson placed sixth at WPIALs and advanced to the state level when another diver ahead of him had to bow out due to an injury. It was a great learning experience. His final score then was 319.45.
"I was very pleased with his performance," says Foxes diving coach Vernon Yenick. "This year's performance was more than 100 points higher, and that's incredible. I thought he was consistent on all of his dives. He executed them technically excellent and 'ripped' on what I thought were his best dives, the backward dive and his forward 2 1/2 somersault. A rip is when the diver makes no splash, and Jackson is quite good at that."
He adds, "Watching Jackson improve and learn how to compete has been incredibly rewarding for both of us. He is determined to be the best he can be and works on his weaknesses to better his score in every meet he competes in. I expect him to improve his score even more at states."
The PIAA Class 3A diving championships will be held Saturday, March 18, at Bucknell University.