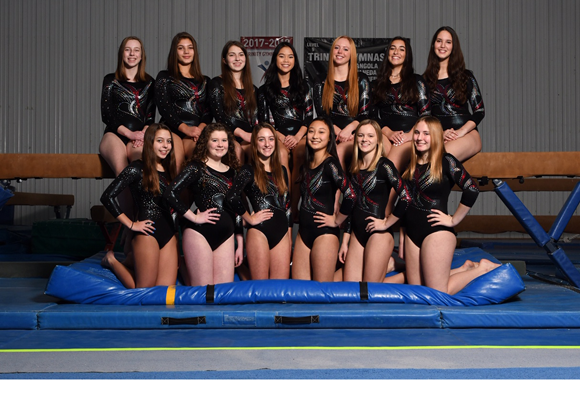 When Rachel Himmel and Nicole Garcia-Tunon joined the Foxes' gymnastics team as freshmen four years ago, there were no seniors on the squad to mentor the younger girls. It was also Nadine Buchanan's first year as head coach of the team.
All of that has changed now, and more. The 2019 team has more depth and perhaps more collective talent than in recent history, and the girls are proud of the tight-knit relationship they share.
"Every girl on the team has prior gymnastics experience, except one who came from a trampoline and tumbling background," says Coach Buchanan. "She has impressed us with her enthusiasm and willingness to learn. We also have three new promising freshmen who come to us with high-level experience."
"I'm really excited for this year because we have a really good team dynamic and a lot of freshmen who are very good," says Nicole, whose event will be limited to the parallel bars after suffering a knee injury over the summer. "The freshmen's skills, especially on the floor and vault, will definitely help out the team. We've been solid on the floor, but definitely the freshmen will bump up our team ability. They are the ones who are going to be the stars and the future of the team."
A WPIAL qualifier on the vault for the past three years and on the floor as a sophomore, Rachel adds, "For the past two years, we've stepped in to take on more responsibility and leadership roles. I think we're a tight-knit team now and we're all focused on achieving our goals."
The 13 girls on the team include returning seniors Nicole (bars) and Rachel (beam, vault), Morgan Anderson (bars, beam), Maggie McCoy (beam, vault), and Michela Nicholas (floor, vault).
Junior Kaylyn Toomey competes on the beam and floor, and Jenna Tupponce, also a junior, on the vault.
Returning sophomores are Zoe Boychuk (bars, beam), Maggie Kelly (bars, floor), and Lucy Markovitz (bars, beam, vault).
Additionally, this season's freshmen trio includes Hanna Essey (floor, vault), Claire Hamilton (bars, floor, vault), Audry Mah (all-around).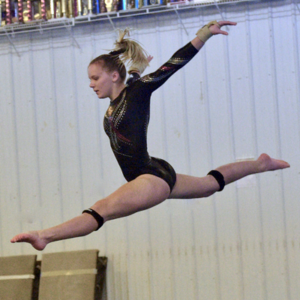 Some of the team members also are multisport athletes, including Nicole, who competed on the Foxes' section champion and WPIAL-qualifying golf team. Maggie Kelly, Zoey, Claire, and Hannah also dive for the Fox Chapel Area High School Diving Team, where their background in gymnastics has made them quick learners.
"Over the past four years, I think we've all grown together," adds Rachel, a 13-year gymnastics veteran. "We focus a lot on team bonding and we all love gymnastics. We just strive to be the best we can be and not compare ourselves to other teams."
That's probably a good attitude to have as the Foxes flip through a competitive schedule against nine other high schools.
But, in the long run, Nicole and Rachel speak for all of the seniors in saying they hope what the younger team members will remember the most about them are their efforts to bring everyone together.
"We've shown them how to create good and welcoming relationships and gotten them into a good routine," says Nicole. "This team is motivated and with the talent they have now, I'll be really interested to see how things go in the next few years."