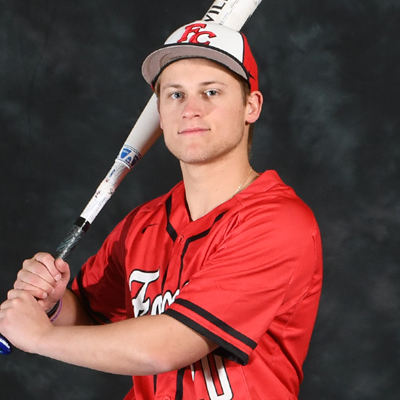 Baseball player Jacob Gruden wouldn't have mapped out his high school athletic career the way it has unfolded, but the ups and downs have taught him a valuable life lesson: How to turn a setback into a comeback. Now, he's more than ready to get back on the diamond and make up for lost time.
Great Start
When the current senior was only a sophomore during the Foxes' 2017 baseball season, he had impressed the coaches enough to make the varsity squad. He played well that year and had a bright future ahead of him as a pitcher. Yet, he was bothered at times by nagging pain in his right shoulder, and physical therapy once the season was over did not solve the problem.
It was then that Jacob and his parents saw a specialist and his diagnosis was not good – he had a torn labrum. It was a time, Jacob recalls, that was "terrible" and the ordeal ended up testing his dedication, tenacity, and determination on all levels.
A Hard Comeback
After Jacob's surgery in 2017, it took months for the 5'10" right-handed pitcher to rehab his shoulder.
"I never thought it would take so long to recover," Jacob says. "Before this, I had never been out that long with an injury. It was really tough. I literally had to teach myself how to throw again."
After a long, grueling recovery, Jacob was cleared to play in June 2018 and spent his summer vacation with the Pittsburgh Diamond Dawgs. He did really well and batted .600, but says, "I knew something still wasn't right. I couldn't throw like I did before."
After more physical therapy, which was ineffective, last fall he underwent reconstructive surgery.
"It only took about a month-and-a half to recover from that surgery, and then I did five months of physical therapy. But all of it was much easier than the first time," Jacob says with relief.
Getting Back to the Diamond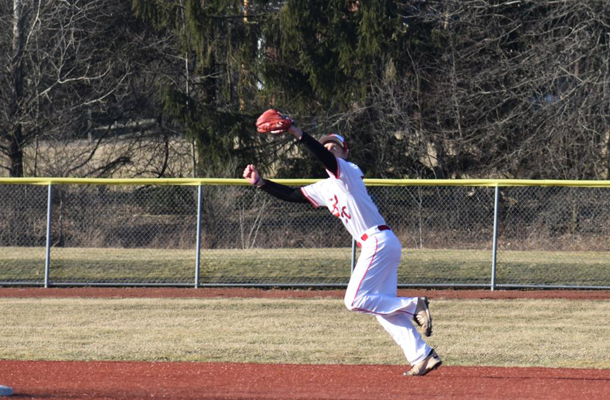 The Foxes' 2019 baseball season is now underway, and there's probably no one on that team who is happier than Jacob. He's feeling great and, even though he can no longer pitch, already has earned high praise from Coach Jim Hastings, who predicts Jacob will be a big contributor this year on both offense and defense.
"Jacob is playing second base and outfield for us this year," says Coach Hastings, who took over the team two years ago. "I wasn't coaching at Fox Chapel Area during Jacob's sophomore year, but I had heard about him, and got to know him last year. Even though he wasn't playing for us, he was still on the bench to support and cheer on the team."
Watching how Jacob responded to adversity and his demeanor under pressure aren't the only things that have Coach Hastings very optimism about Jacob's role this year.
"Jacob has great speed and is probably the fastest kid on the team," Coach Hastings says. "He has good range (how far he can throw the ball), and is great at tracking balls down. He's also a good lead-off guy, doesn't strike out much, and is strong defensively."
Jacob says his aim this year is to help the team win their section and get back to the WPIAL playoffs.
Quantitatively, one of Jacob's goals is to "not make a lot of errors." Furthermore, he says, "I'd like to hit .300 and have 10 to 15 stolen bases."
But most of all, he wants to be a leader and good teammate.
"We've (the seniors) all been together as a group since our freshmen year and we think we're going to have a great season," says Jacob. "Not a lot of people are talking about us, but that's ok. We have a lot of great all around players and it's going to be a fun year."