Down the road, Grace Gackenbach would like to be a physician. But in the meantime, she's focused on academics, serving as president of her junior class, and clocking about 80 miles a month in the water with the Foxes' girls' swim team.
It's a grind for sure, but it's paid off for Grace, one of the team's best swimmers since she was a freshman. She and her teammates practice Monday through Friday after school for two hours. Three days a week before school starts, they do one-hour dry-land workouts, and that's in addition to the afternoon practices. On Saturdays, the swimmers are back in the pool for the week's final workout.
"Swimming can be a love-hate relationship," Grace explains. "You hate to do the two-hour, super hard practices sometimes. But when you get through it, it shows in your personal times, and it helps the team to win. We want to win our section this year." 
A Big Point-Earner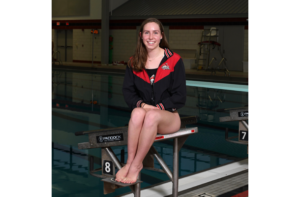 Grace's contributions to the team's past success – they were section champs when she was a freshman – have been many and consistent.
"Grace has been one of the hardest workers on our team since her freshman year," says Coach Dan Taylor. "Her leadership has played a major part in our team success over the last three seasons."
Another reason why Grace is such an important part of the ensemble is because she is adept in six events. She cannot swim them all at one time, however, because WPIAL rules only allow swimmers to compete in a maximum of four events per meet.
"I really like the combination of doing the 200- and 500-free and the 100 backstroke best," she says. "What I like about the longer distances is that you can build up to hit your stride and your fastest speed, instead of the events when you have to sprint from the beginning."
Additionally, Grace is a member of the 200 medley relay and the 400 free relay teams, and swims individually in the 200 IM.
"As a freshman, I qualified for WPIALs in the 100 backstroke and 200 IM, and then last year as a sophomore in the 100 backstroke, and 200- and 500-free," she says. "This year I really want to qualify in the 200- and 500-free again, and I think that will happen."
Grace has already qualified for 2019 WPIAL Swimming and Diving Championships in the 100 backstroke at the meet against Hampton High School. However, swimmers are only permitted to participate in two events at the postseason championships.
Home Away From Home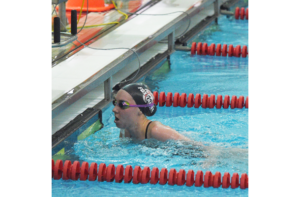 Grace has been in the water since she was a little girl growing up in Chicago. She says she gave soccer a try when she was five, but never developed a real liking for it so her participation in the sport was short-lived.
"I just fell in love with swimming and started doing it all year when I was eight," she says. "I was about 10-years-old when I started swimming competitively."
For Grace, the pool has served as a meeting place for some lasting friendships; it's also become somewhat of a safe haven if she's feeling tense or stressed.
"When I get in the water, I definitely relate to the feeling that I'm 'home,'" says the honors student who takes a very difficult course load and maintains a stellar grade point average. "I feel a sense of security when I get into the pool and get motivated and excited to be with my friends and teammates."
The sport also gives her a great appreciation for the value of hard work and she says, "At least for me, when I put in the hours and the time and listen to my coach, I can see myself improving and becoming more successful. But even more, I want us to be section champs again. Then, all of the hard work will have been worth it."