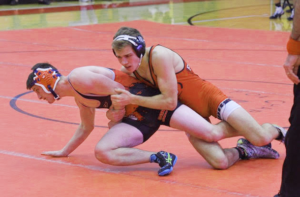 People who have never witnessed a high school wrestling match don't know what they are missing. It's one of the most grueling sports – and maybe the toughest of all of them – and pushes an athlete's outer limits of strength, flexibility, endurance, and mental stamina.
Seven Foxes' grapplers passed the test February 23 at the Section 3 WPIAL Class AAA tournament and now will advance to the WPIAL wrestling championships. The event will be held March 1 and 2 at Canon-McMillan High School.
Senior Avery Bursick was the highest place-finisher for the Foxes with a runner-up medal in the 145 lb. weight class. He will move on with fellow seniors Sean Mahon (182) and James Patterson (195), and juniors Eddie Farrell (220), Josh Miller (152), and Alex Wecht (160). Freshman Ray Worsen will see his first WPIAL action in the 113 lb. weight class.
"We participate in the toughest section of wrestling in the WPIAL, and the WPIAL is the best wrestling in the nation," says Coach Ron Frank. "So we know there are no absolutes. We plan and scout (through the matches recorded during the year) and hope that each wrestler is ready to compete for the six minutes of challenges."
The wrestlers have worked hard all season and they will continue to train hard this week in preparation for WPIALs. After that, all their coaches expect from them is that they give it 100 percent, have fun, and trust in themselves and their abilities.