It's been quite a while since the Fox Chapel Area girls tennis team has had such a young singles lineup, but coach Alex Slezak says it makes no difference in the way he coaches his players.
"I just view it as getting more time to spend with them," he says of a lineup that includes a freshman, sophomore, and a junior. "It's actually exciting for them because it's all new, and also for me because I enjoy seeing that and watching them grow over time."
This season, Chanel Brun, Sienna Siegel, and Sophia Carvelli are his top singles players, while senior Diya Reddy and junior Lucy Larsen hold down the top doubles position.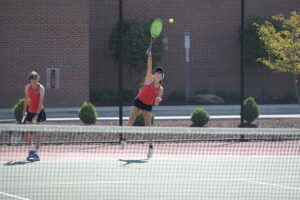 Sophomore Sienna, who just qualified for the 2022 WPIAL Class 3A playoffs by upsetting senior Jules Smalis of Allderdice, started playing when she was 5 years old.
"She was ranked sixth, but I told Sienna before the matches that seedings are what other people think of you, but results are what you think of yourself," says coach Slezak.
Sienna's prowess on the court gradually progressed from playing with her brothers and dad at parks and in their driveway, to training with some of the area's best coaches. She always played with boys growing up, something she believes ultimately benefits her game.
"My tennis group (at the Fox Chapel Racquet Club) started out to be only boys, and growing up with two brothers, I was used to playing against older boys," Sienna says. "They were stronger than me and fierce competitors, and pushed me to try and reach my full potential.
"Tennis is fully a mental game, and I have learned that it's very important to have patience and focus. I think if you have that mentality, you can have a lot of upsets."
Coach Slezak adds, "Sienna doesn't like to lose and loves playing under pressure. She tends to come through in tough matches and has gotten better at coming forward and putting points away. She played doubles last year, but her abilities have grown since then, and she is doing well as one of our top singles players."
Chanel's dedication and commitment to the sport have paid off early as a ninth-grader.
"Chanel hits a lot of tennis balls and trains daily in addition to the team practices," her coach says. "She's young, but a good competitor and has a lot of potential."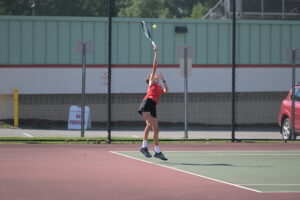 Sophia, a junior, played doubles last year as a sophomore, but her improvement over last season earned her the third singles slot.
"She is right where she needs to be and has all of the skills to play in the singles lineup and contribute wins," says coach Slezak, now in his 13th year of heading the girls program.
This is Diya and Lucy's first year playing doubles together at the varsity level, but they bring plenty of positive energy.
"My doubles partner and I get along well, which aids us in our playing," Diya says. "It's bittersweet being a senior, but I want to leave on a high note and enjoy my last season. Playing tennis has been a highlight of my high school experience."
"Diya and Lucy have learned quickly this season and are continuing to work hard to improve," coach Slezak comments. "They are fun-loving, good competitors, and we will be counting on them as the season progresses."
Since 1971, the Foxes' girls tennis teams have been section champions 25 times, but coach Slezak has always stayed away from predictions. Even so, and despite multiple games being rescheduled due to the rainy weather, the team is doing well so far. As of September 13, their section record is 4-0, and they are 4-2, overall.
"I try to stay in the present and don't refer to the past," the coach says. "Every year, I want them to go out there and get a bit better every day. It's important that we learn, win or lose."