The Foxes girls lacrosse program has had its share of appearances at the WPIAL Class 3A playoffs, including last season when the team was quarterfinalists. After that finish, this year's group of players came into the season with renewed intensity and determination.
From the beginning of the season, the girls knew that reaching WPIALs once again was a possibility, but they also recognized it might be a big challenge to get there unless they took a hard look at themselves and pushed to reach levels they had not in the past.
"I'd say that last year we would come into games a little slow in the first half and then have to catch up," says third-year coach Kellee Cribby, whose 2022-2023 team is seeded third in the playoffs and received a first-round bye. "This season, they are playing with so much more intensity and grit for a full 50 minutes."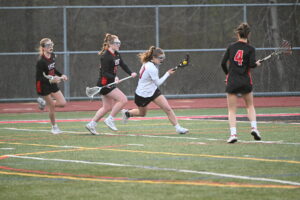 Sophomore midfielder Meg Delaney, who has contributed 17 goals this season, admits that, early on, the team did not have enough confidence, but all of that has changed.
"After the three losses at the beginning of the season against our toughest competition (Mt. Lebanon, Pine-Richland, and Upper St. Clair), it was definitely a rude awakening," Meg says. "As a team, we knew that something needed to change in our style of play. Since then, we are undefeated and have implemented new strategies to succeed throughout the remainder of this season."
Some of their success is due to the tenacity and firepower of senior attacker Lindsay Scheffler and junior midfielder Sydney Schutzman, both of whom reached 100 career goals this season. Lindsay has also added 100 assists to her resume. By the end of the regular season, the players combined for 108 goals. Young midfielder Ava Orie, a freshman, put 23 shots in the net to help the team earn its 8-1 section record.
"Ava is very athletic and definitely has a goal-to-goal mindset," notes coach Cribby. "She's a really good dodger from the top, really intense, has great stick skills, and elevates our playing level."
The same holds true for another rookie, freshman Caroline Grimsley, who 19 goals of her own.
"With both of those girls, we have a lot more pressure going on in games," coach Cribby says.
In addition to the players mentioned, there are three attackers who also have played key roles in reaching the team's goals ­– senior Mercer Murton and sophomores Anna Mohn and Kennedy Murton.
Meg says that she has seen a lot of improvement in the midfield, partially because the three middies (her, Sydney, and Ava) are continuing to learn from each other.
"For the first time in our lacrosse careers, the three of us have the opportunity to play together in the same lineup," Meg says. "We have worked together throughout the offseason and have a great amount of experience. We all are very dominant on both sides of the ball, and I believe that is why we have been able to succeed so much in the midfield this season. Having an experienced and athletic midfield line only helps our team toward success."
Even with that much power coming from the midfield and up, the Foxes still placed second in Section 2 behind Pine-Richland, which attests to the difficulty of their league and the overall quality of many of the well-established teams in the WPIAL.
Tough on Defense
Coach Cribby was faced with rebuilding her defense this year after losing most of the line to graduation. After that period of anticipated adjustment, the kinks have been worked out, and the group has performed extremely well in helping the team reach its current 10-game winning streak.
There are only a few players this year who were dedicated defenders last season, but junior goalie Tess Petrucelli says the rebuilt unit has greatly improved since the beginning of the season. In addition to Tess, seniors Caroline Bonidy, Mia Nury, and Aly Solomon, and sophomore Natalie Patel guard the backfield.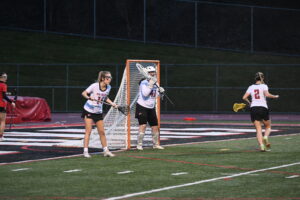 "As one of many leaders on defense, a big success of ours is working together as a unit and recognizing what needs to be fixed during games and then fixing it," Tess says. "Our defense has worked so hard, and that hard work is evident in the games where we only have a few goals against us."
Going into the playoffs, Tess says staying focused and upbeat are vital to their success in the playoffs.
"We have had some great wins this season against some great teams," Tess says. "Going into the playoffs, we just need to think about all of the momentum we had during those games and throughout the season.
"I think one of our biggest strengths going into the offseason is our ability to work together. On defense, we have really become one cohesive unit, and it has really helped during the games. Even though I am down on the defensive side of the field the whole game, I can still see a big strength in the attackers, who are also working as a team. I see pass after pass when everyone is trying to get open for a shot on goal."
Coach Cribby adds, "We're a lot more consistent now and have been in more high-pressure situations throughout the season, so that will help us in the playoffs. The entire team is hustling. The biggest thing going into playoffs is that we need to show up to play, not just tactically, but mentally as well. Every player in every role must come in operating at 100%."
Being able to pull together all those factors will be essential to winning games in the playoffs. If they do, while remaining calm amid difficult situations, the players believe they can walk away from the championship game with the WPIAL crown held high for the first time in school history.