It was a long, grueling day at the Butler Track and Field Invitational, but well worth the effort for the many Foxes who came away with medals and new personal records.
Junior Anna Troutman was dripped out in metal after medaling in four events, a new record for her. She placed second in the high jump (she holds both of the school indoor and outdoor records), eighth in the triple jump, and fifth place in the 100 hurdles. She also was a member of the girls 4 x 100 meter relay team that took home a silver medal and had the second-best time in school history. The other racers on that team are sophomore Anna Kintner, junior Eileen Healy, and sophomore Alyssa Quackenbush.
"It's going to be tough competition at WPIALs this year," Anna says of the high jump event. "There are many very talented high jumpers who can clear big heights. My best guess is I would need to be in the 5'5" to 5'6" range to win. My goal is to either PR (set a new personal record) or get close to my current PR (5'6"). Anna also placed seventh in the long jump.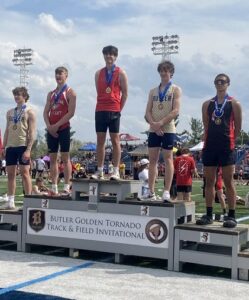 For the boys, senior George Tabor earned gold in the long jump and also medaled in the triple jump.
In his best 1,600-meter race yet, junior Rowan Gwin posted a 4:21, six seconds faster than his 2022 WPIAL medaling time. In a change of pace, Rowan also ran the 800-meter race.
"In the 1,600, I set my goal at 4:17 at the beginning of the season, and my progress toward the goal is good," Rowan says. "That 1,600 was the first time I got to really push since indoor, so it was great to get back to a lot of competition. I think a year of growth and race experience has really helped with my progress. Last year, I wasn't satisfied with the results as I just missed the state qualifying time by two seconds. I knew I was ready for a breakout race.
"I haven't had a chance to run a fast 800 all year, so I wanted to see what I could do. My first lap was too fast at a 56 (seconds), and I finished with a time of 1:59. I was happy with it and learned a lot from the race. It's also great speed work for the mile and two-mile."
In a very welcomed return after suffering from an injury, junior Mason Miles placed fourth in the discus.
"He was not happy with that, but he is hard on himself," says head coach Tom Moul. "That was a great throw, and we're confident he will be back to where he was last year when he was our only athlete who qualified for states."
Meanwhile, another invitational was underway at Seneca Valley, the Marcie Peaco Freshman/Sophomore Invitational, and the Foxes also did well there.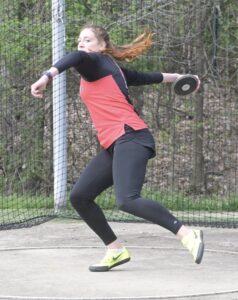 Freshman Claire Conti not only won gold in the discus, but she also set a new meet record with a throw of 117'. She also came in second in the shot put and fifth in the javelin.
On the track, Fox Chapel Area swept four of the top five finishes in the girls' 3,200. Sophomore Yoqi Zhou won the race, freshman Zelia Herald was third, freshman Samantha Dinh finished fourth, and in fifth place was freshman Prachi Behal.
The girls' 4 x 400 relay team composed of Prachi Behal, Zelia Herald, freshman Chloe Coulter, and Samantha Dinh was impressive as well with its gold medal finish. For the boys, freshman Gavin Youkers earned the silver medal in the 1,600.
The Foxes will face another tough test on May 5 when they compete at the annual Pine-Richland Invitational.
"This time of the year is very exciting, as we're honing our training and skills in preparation for a big day at WPIALs," coach Moul says. "Last year, we had success in terms of medals there, but only one state berth with Mason Miles. This year, we're hoping to take a crew to Shippensburg, but in order to do that, the kids must perform at WPIALs."