With a solid roster that comprises many of last year's top players, the Foxes field hockey team has something to prove this season. Still haunted by the team's 1-0 loss to Penn-Trafford in the 2021 WPIAL Class 2A finals, all-WPIAL pick Anna Drum says, "I do think we can get to the level of play to reach the WPIAL championship again this year. We've been improving every game, and we just need to work on capitalizing on plays in the scoring circle."
Anna a senior, says a big key to reaching their goal has been placing more emphasis on conditioning. The players understand that fitness levels can be a make-or-break difference in tough games.
"We worked all summer to get our stamina up," says Anna, who played forward previously but was moved to left midfield this season. "We have a lot of girls who can run the field for all four quarters of the game, and we have people like senior Aly Solomon and freshman Emma Srodes in new positions to help showcase our team's strengths."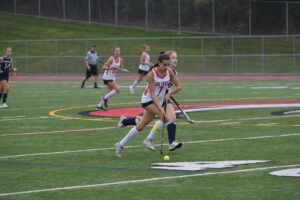 In addition to Anna and Aly, returning starters include seniors Caroline Bonidy, Edie Brush, and Leah Kenyon, and juniors Annalese Bartolacci and Mia Costello. Moving up to the varsity lineup are juniors Gabi Urso and Mira Busch, sophomore Gina Fitzsimmons, and Emma, a rookie left forward who already has made a big impact in her first year with the team.
Coach Emily Humiston, who has a storied history of her own playing the game and will be inducted into the North Allegheny Athletics Hall of Fame in October, naturally expects a lot from her Foxes team.
"Our top players bring a lot of very crucial things when it comes to holding a team together and unifying all the different positions and skill sets out on the field," the coach says. "Some of those important qualities are speed, skill, knowledge, passion, and leadership."
Anna – a Pittsburgh Post-Gazette selection as a 2022 player to watch – is a key to a well-oiled team. The coach is looking toward her to set the tone in practices and games, along with teammates Aly and Caroline, both all-section picks last season.
"We are looking at them to be examples for their teammates on what hard work can do for them and what the outcomes of that hard work can look like," says coach Humiston.
Aly is optimistic about the team's prospects, even though it's a much younger squad than in recent years.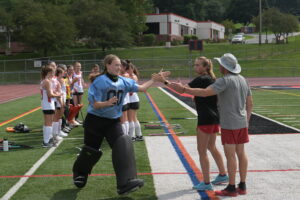 "So far this season, the team has exceeded my expectations," says Aly, a right midfielder known for her quickness. "I was nervous coming into the season knowing we didn't have a (permanent) varsity goalie, but Kenzie Ben (junior), Gina Fitzsimmons, and Ridglee Boychuk (sophomore) have really stepped up to take on new roles."
Center defender Caroline cites the senior class's unity as an important factor for success.
"The seniors have played together since seventh grade, so there is a lot of chemistry," says Caroline, who has a great deal of skill in stopping plays before they enter the defensive circle. "We are a tight-knit group, and I know I can count on them on and off the field. Plus, we have a great many additions to the team who give us an 'edge.' "
"It's still rather early, but I believe we are ahead of the curve, in terms of conditioning and knowing what to do out on the field, so the coming games will be more about testing our discipline and accountability," says coach Humiston.