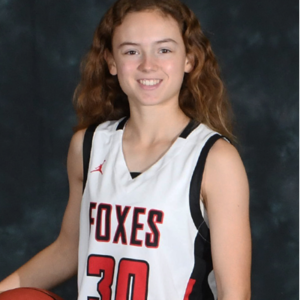 At 5'3", Claire Fenton is one of the smaller players on the basketball court, but it would be a mistake to underestimate what this impressive athlete is capable of achieving.
This season, Claire has been one of the Foxes' top point earners. Going into the school district's holiday break, Claire has scored double digits in every game, is shooting 88 percent from the foul line, and has increased her range as a three-point shooter.
While Claire has been a force in all of the team's game so far, perhaps her maturity as a player was most evident in the game against North Allegheny High School – the top-ranked girls' team in the state according to preseason projections – when Claire was the Foxes' top scorer with 19 points. It was also a career high for her.
"Claire is very focused at whatever she is doing and has a tremendous work ethic," says Coach Jennifer O'Shea of her player who takes all Advanced Placement (AP) and honors classes and has made straight As throughout high school. "And, she always stays after practice to shoot. She is one of our best all-around players and her great attitude has earned her the respect of her teammates."
"Just being a year older and getting more experience has made me more confident," Claire says. "I'm more used to the pace of the game now and I'm able to finish when driving to the hoop."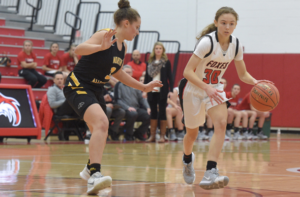 Her improvement is partially from her coaches' guidance, but also from that of her father, a former player for Bucknell University. In the off season, the two spend a couple of days a week on the court together, and at other times Claire will shoot on her own.
"One of the things I've learned by working with my dad is that you have to have multiple ways of scoring," says Claire, who, in addition to her scholastic achievements, also plays soccer for the Foxes, writes for the school newspaper, and tutors an elementary school student. "My dad has helped me to have lots of offensive moves so I'm not so one dimensional."
"One of my favorite parts of Claire's game is her craftiness driving to the hoop," says Coach O'Shea. "We are expecting a lot out of Claire this year."
Claire's steely concentration and determination will be key elements as her team and coaches work toward having their goals realized this season.
"I know I might not look that intimidating when you look at me, but I surprise a lot of people," Claire says. "I think the team is in a good spot this year. We're in a new section, but I feel we can compete, and I plan to do whatever I can to help my team win."