One thing the boys lacrosse team has learned this season is that the game isn't over until it's over. That was actually the scenario when the Foxes defeated North Hills a few weeks ago and then earned a berth in the WPIAL Class 3A playoffs. The Foxes will have home advantage when they play Central Catholic in the first round of the tournament on Tuesday, May 16.
"With 2:23 left in the North Hills game, North Hills had a three-point lead, with the score at 8-5," says coach Jordon Hodder. "At 1:26 in the fourth quarter, we went two men down but scored to make it 8-6. We found a way to tie it up with only 4 seconds left. In overtime, we were a man down, but Kaeden (Pekarcik, goalie) made the save of the season by blocking a North Hills shot, and then Josh Correnti, who has had some big games for us, made the goal to win the game."
That dogged display of teamwork proved to opponents and even the players themselves that they are not a team that's about to give up even when they are down points late in the game. It's a mindset that developed more as the season progressed, and now the Foxes are riding on a five-game winning streak going into the playoffs.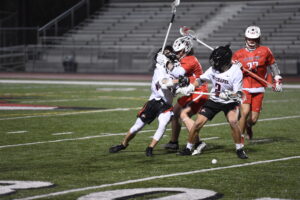 Looking back, first-year head coach Hodder knew he had a big job ahead of him after losing nearly the entire starting lineup to graduation. He had a large group of new starters, many of them young without much, if any, high school playing experience. They needed time to gel and develop chemistry.
All along, the coaches tried to keep their players' mindsets positive, stressing that they needed to take one practice and one game at a time. Gradually, the players built up their confidence after suffering a mid-season slump.
Coach Hodder says, "We have never been out of contention for the playoffs."
On offense, juniors Jake Siddons and Ryan Napolitan lead the scoring leaderboard, with 46 and 26 goals, respectively.
"Jake is a phenomenal player who is crafty and intelligent and knows how to protect his stick," says coach Hodder. "He knows how to find the goal, and it's always nice to have a powerful lefty on the field. Jake has a high ceiling for potential, and he's going to continue to get better and better.
"Ryan is a top midfielder who plays all over the field. He is a grinder who plays extremely hard throughout the entire game and knows how to create opportunities for himself and his teammates. He has really grown immensely in his leadership role, both on and off the field."
The defense, anchored by junior Kaeden, was shuffled around a few times this season, and two sophomores ended up starting alongside junior short stick defensive middies juniors Rocco Didomenico and Nolan Childs, who played supporting roles last season. Fellow juniors defender Owen Cooper and long middle stick defender Jack O'Brien both stepped up this season to add to the team's defensive power.
"Both Rocco and Nolan have played phenomenally," says coach Hodder. "When the ball is on the ground, they know how to get it up and out. Kaeden is a very talented goalie who has saved us a lot because he knows how to make key plays."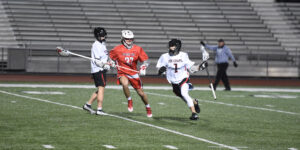 Now, as the team enters the playoffs after missing them last season, the players are focused and healthy.
"When you get to playoffs, it's a clean slate," coach Hodder says. "Anything can happen. We have so much more chemistry now than we did at the beginning of the season, and everyone has come together as a group. We're finding ways to win and getting the job done. It's not always the team with the best record that wins in the playoffs. It's the team that wants to win it the most."
The Foxes believe they are that team.