It wasn't too long ago that the Foxes were largely underestimated in WPIAL Class 6A boys basketball and the commentary said, "It's North Hills … and then the rest." However, at the championships held March 5 at the Petersen Events Center, the Foxes powered through a tough defensive game, proved they are no underdog, and beat North Hills, 43-36. At last, the team won a WPIAL championship that was 45 years in the making since they last earned the title. For this group, in particular, it had been their singular collective goal, putting it even above any personal aspirations of greatness.
Now, with a record of 24-1 that includes 23 consecutive wins, the coaches and fearsome five senior starters – Jake DeMotte, JP Dockey, Russell Fenton, Colin Kwiatkowski, and Eli Yofan – are enjoying their dream come true. Sophomore Jefferson "Boogie" Moorefield-Brown also made some major contributions. He came to the game wearing the team's new award, the chain necklace, for his role in beating Central Catholic in the last seconds of the semifinals.
The low-scoring WPIAL championship game that resembled more of a football game score than that of basketball, was an illustration of defensive genius. The Foxes held the Indians' offense to 30 points below what they had averaged this year. Coach Zach Skrinjar says, "One of my coaches always says when we get the lead, we're not going behind again, and it's true. I could not have asked for more of how our defensive game plan was executed."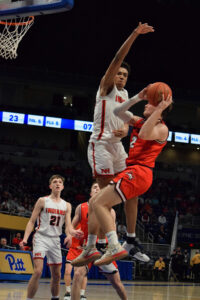 "Winning feels great, but we've put in so much time and effort since the summer," says Eli Yofan, who was nearly speechless right after the game. "We knew what we had to do, and we executed perfectly. Everyone on our team brought it in! It was unbelievable!" Eli's career scoring record now stands at 1,542, with more to come.
JP Dockey was the one who tied up the game in the third period with a steal and then a breakaway layout. He finished with 10 hard-earned points and was selected as the WPIAL 6A championship player of the game. He says winning the championship was a goal that four of the seniors set a long time ago when they were in third grade and playing travel basketball. He recalls those days and says, "We always knew this was our goal."
At the game on Saturday, the team got off to what has become more regular when playing some of the best teams in the league – they were behind at the half.
"North Hills had a hot start, but we were confident if we just played our game and were patient that we'd come back in the second half," says JP.
Coach Skrinjar adds, "This is the result of these guys' hard work throughout their whole careers, beginning when they were sophomores and started to get some quality minutes. What happened last night was the culmination of the building of a champion. It was very emotional and a feeling of pure joy because I had wanted this so badly for the boys, the coaches, and the community.
"You know, at the beginning of each season we have boxes you want to check off and the PIAA championship is the last one. Now, it's time to start all over with a totally new season and just take one game at a time."
"Everyone's been doubting us, and sometimes the coaches post stories about that," JP says.  "We use it for motivation, and it bonds us all and fuels us to win.
"Now, we just want to keep up our momentum. We are playing well, and even though we don't know a lot about some of these teams (in the PIAA playoffs), our coaches have done a great job of scouting, and we will be prepared to play."
---
The PIAA Class 6A playoffs begin for the Foxes at their home court on March 9. Tipoff is at 6 p.m. against Cumberland Valley High School