Designated hitter Jack Resek is the kind of player who likes to dig a little deeper than the stats might indicate, is a good analytic thinker, and likes to break things down. It will make him a great dentist or neurosurgeon one day, his top career choices. But, right now, those skills are providing good insights for the Foxes baseball team during a year when nobody quite knew what to expect. Least of all, Jack.
About two weeks into the season, Jack, a senior, suffered a shoulder injury that kept him from his starting position as the team's catcher, a position he held since he was a sophomore. But his leadership, baseball IQ, and sound batting have been factors in the team's success as they head to their fifth WPIAL Class 5A playoff in six years. The only time the squad did not go during Coach Jim Hastings' tenure, was during COVID when the season was canceled.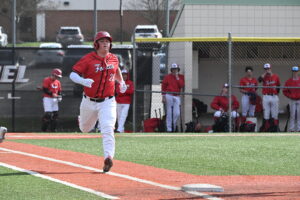 This year, coach Hastings says they are more prepared than ever to face Mars Area High School on Wednesday in the first round of the tournament, set to start at 6:30 p.m. at Plum High School.
"Mars used to be in our section, and we've faced them the past three or four years," says coach Hastings. "We know them well, and they are a solid team, but I like our chances to win. We are better than we were last year, no doubt about it. Our lineup is better, we are mentally stronger, and we performed better this season."
There are myriad reasons why the lineup has improved, most of them not anticipated.
One factor has to be the flexibility of coach Hastings. Admirably, he is not a leader who thinks he knows it all. This season, his players had a voice about their roles in the lineup, and it's led to positive results.
Several sophomores have stepped up with very notable contributions, including pitcher Jeremy Haigh, who is 6-1 in the regular season and has proved to be one of the best pitchers in all of Class 5A. He is only one win behind Pine-Richland senior Jacob McGuire. Jeremy also leads the team with a .412 batting average and an on-base percentage of .552.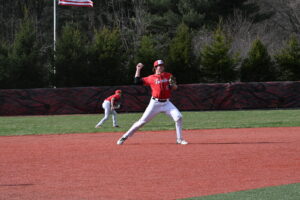 Within the pitching ranks, sophomore southpaw Franco Pistella and junior Ryan Inglis also have done well,
There were other changes throughout the season that paid off, too, including pulling up freshman outfielder Joey Geller from the junior varsity squad. His .452 on-base percentage was a welcome surprise to the coaches. Joey is the only freshman starter this year.
Furthermore, Mitchell Epstein stepped up as catcher after Jack's injury, and the transition at that position has been seamless. The junior has an impressive fielding percentage of .986.
"It wasn't as much of a jump as I thought it would be to step into the position," says Mitchell, who had an amazing game catching in the team's win over Pine-Richland. Then, on offense, in the first game of a doubleheader against Plum, Mitchell spread the field twice. One of his slugs drove two runs home to win the game, 5-2. "I have been mentally prepared for this," he says.
Mitchell has been most impressed by the maturity of the younger guys."If you didn't know anything about our team and watched us play, you would never think they hadn't played varsity before," says Mitchell. "They play like they've been at it for at least two years, are able to keep their focus, and are able to compete mentally."
As the team looks ahead to the postseason, there are plenty of other talented players who are determined to help get coach Hastings his first WPIAL first-round win.
Shortstop and Juniata College recruit Zach Johnston has been a dependable mainstay for the past three years. This season, he leads the team with 19 runs batted in and has a.550 slugging percentage. Senior Dom Cassol, and juniors Benny DeMotte and Troy Susnak, have been excellent at first, second, and third bases, respectively. Troy also has contributed offensively with his .377 batting average.
"Seniors Dylan Geibel and Matthew Zoschg also have been good for us defensively in the outfield," says coach Hastings. "But really our entire defense has been solid."
"When I look at this team, I see a great chemistry," Jack says. "This whole year, people didn't expect us to play well, and we did. If everyone continues to do their job, if we attack the strike zone, and our pitcher throws strikes, we will do well in the playoffs."
From a coach's perspective, one of the most gratifying things about the squad has nothing to do with talent.
"One of the best things about this team is that they support each other and genuinely like each other," says coach Hastings of the group that has not had years of playing experience altogether on varsity. "That doesn't always happen, so it's been a huge bonus."