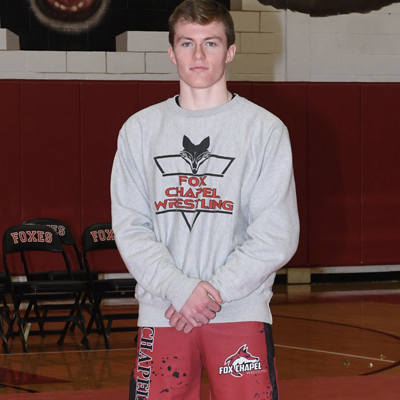 If you watch wrestler Avery Bursick before he steps into the limelight on the mat, what you'll notice is a serious, quiet, and focused young man who doesn't like to interrupt his concentration by listening to music or joking around too much with his teammates.
His intensity is palpable, and the senior, who competes in the 145 lb. weight class, has carried that mindset throughout the season and his entire four years with the high school team. Avery has more than earned his reputation as the team's hardest worker, he is their leading scorer, and now the tri-sport athlete can add "three-time WPIAL Class AAA qualifier" to his list of accomplishments.
The goal-oriented student athlete earned his ticket to the championships after placing second – his highest place finish ever – at the section 3 tournament held February 23 at Fox Chapel Area High School. Following Avery's wins over the weekend, he now stands at 29-9 for the season with 18 pins. His overall career record is 85-46.
"Avery has earned a 4.12 weighted quality point average (QPA) while excelling in advanced placement courses," says Coach Ron Frank of his athlete. "His improvement year after year has been tremendous and it is a credit to his work ethic in and out of the practice room."
It also should be noted that Avery's scholarly achievements include his two-time naming to the all state academic team by the Pennsylvania Wrestling Coaches Association. Given his grade point average, he is a shoe-in to get the recognition again.
A Coach's Son Who Didn't Like Wrestling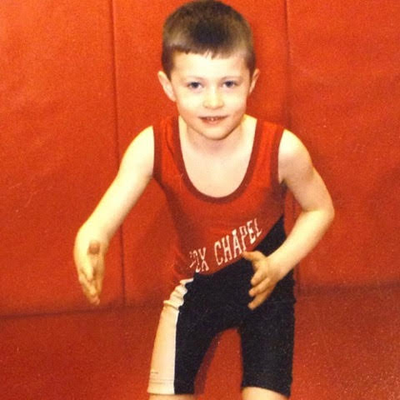 Avery's father, Joe, is a volunteer assistant coach for the Foxes, but he also had an illustrious career of his own as one of the region's top wrestlers, and then as a highly successful coach at Hampton High School. As such, Avery was around a lot of wrestling growing up, but didn't like it when he started doing it on his own.
"I tried to hide how much I hated it from my dad, but I'm sure he knew," says Avery. "But he never pushed me and about five years later when I was in sixth grade, I came back to it, and over the years I developed a passion for it. I think sometimes it's hard for really young kids to get hold of a sport and find a liking for it.
"Even though it's a grueling sport, it pushes you hard. You can see your progress if you work hard and there are so many cool aspects of it to showcase your abilities."
But, as Coach Frank points out, "Avery's success in athletics only scratches the surface of who Avery is as a person."
Compassion for Others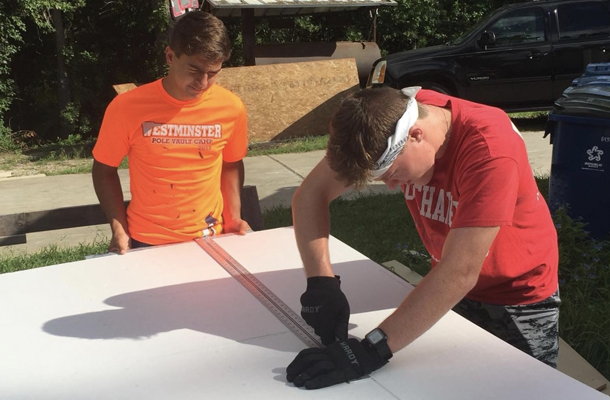 Outside of wrestling, Avery says he is more laid back and likes to spend some of his spare time helping others. He has accumulated more than 1,000 volunteer hours tutoring students through the National Honor Society, and is active in his church's youth group. With that group, he has gone on mission trips to help the underprivileged and is active in its homeless outreach program.
The cross country and track runner also has decided upon a college major that will draw on his desire to reach out to others, his academic prowess, and his athletics background. While he has not selected a college yet – he wants to enroll in a six-year accelerated program where he can also get his doctorate – Avery wants to become a physical therapist and believes it's a career that will bring him a lot of satisfaction. To get a taste of what life will be like in the healthcare field, he has shadowed therapists at the Children's Institute of Pittsburgh, and he enjoyed it.
While he's anxious to begin that next phase of his life, he knows it will also signal a sentimental ending to his competitive athletic career and says, "There are days when I think about it and what a bittersweet ending it will be, but then there are also days when I can't wait for it to be over!"
Working Toward Better WPIAL Results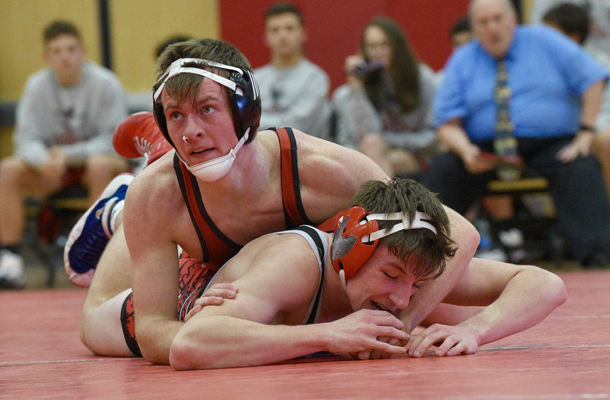 Avery did not advance as far at WPIALs as he wanted to the past two years, and was disappointed with his performance. This time he is determined to close out his senior year with a medal and standing on the winners' platform. He'll be facing some opponents from the regular season at WPIALs, but a lot of new ones too.
Avery has studied the weight class entries and concludes, "I don't think there is a clear-cut winner in my weight class. Of course I would be happiest if I could make the top four and qualify for states, but I would be happy just making it to the second day because I believe that is all about the toughest eight in the WPIAL."
All year, Avery has worked to get to this point. On his own time, he does extra drills and practices with his dad and with Foxes' assistant coach Michael Frank, both of whom are former college wrestlers. In addition, Avery and the other six Foxes' WPIAL qualifiers will be working hard with Coach Frank and his staff right up until the championships begin.
"We do a lot of drilling practicing on our feet, in neutral position, and on top and bottom positions to get and stay in top shape," says Avery. "Coach Frank loves to challenge you. One of his famous drills is for us to do sprints in the art wing of the school, and he likes timed circuits. If you don't make the time, you have to do it again! We also do buddy carries where you have to sprint with a partner on your back."
Now, as the clock ticks down to Avery's final hurrah at WPIALs, he's spending extra time fine-tuning a few things and adds, "I just need to fix some things I saw on film from last weekend, stick to my attacks, and stay confident."
But no matter how or when Avery's wrestling career finally comes to a close, he most certainly will leave behind a legacy as one of the Class of 2019's finest individuals and role models. And, in life, that will take him so much further than any gold medal.
(The WPIAL Wrestling Championships will be held March 1 and 2 at Canon-McMillan High School.)