Up until about three years ago, when Foxes' athletes wanted to train or keep in top performance shape, they could work out on their own in the weight room or fitness center. Facilitators were in the weight room to help out, but there was no organized program, and it was largely the football players who came to train.
Things have changed!
Coach Brandon Peifer now operates a formal strength and conditioning program that is designed to help both female and male student-athletes achieve their fitness goals. He is assisted by John Alerich and James Chandler. Coach Peifer is certified by the National Strength and Conditioning Association (NSCA) as a certified strength and conditioning coach (CSCS). This is the same certification that is required for strength coaches in many professional leagues and is mandated by the NCAA for all Division I coaches. Coach Alerich is certified by the International Youth Coaching Association (IYCA) as a high school strength and conditioning coach, and Coach Chandler is completing his graduate work through Slippery Rock University and is pursuing his CSCS certification.
"We work to develop student-athletes and prepare them for the rigors of their competitive season," explains Coach Peifer. "Promoting healthy lifestyles and teaching scientifically-based training methods are part of the holistic approach. This is not just lifting in the weight room; rather, is a complete strength and conditioning program aimed at developing the student-athlete as a whole."
Since the inception of the program, participation has grown exponentially every year. Team training is conducted prior to each athletic season, and now athletes representing every sport are participating.
Several athletes expressed how the program has helped them develop.
Alex Wecht 2019-2020 Senior (Football and Wrestling)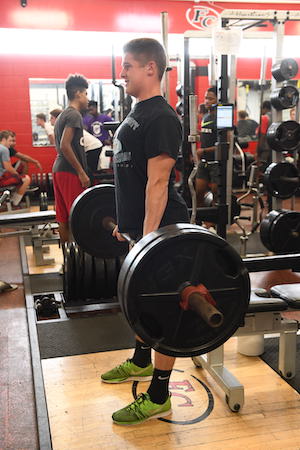 "When I began the program in ninth grade, I was one of the smallest guys in the weight room, and I wasn't able to compete at the level I knew I could. With Coach Peifer's help, I have consistently improved my strength, speed, and athleticism. From the time I started lifting, I have been able to put on more than 50 pounds by lifting and maintaining a good, healthy diet. As I quickly achieved my goals, I progressed to larger goals, like wanting to compete at the collegiate level. I give the program credit for most of my accolades in some way or another. One of the reasons I've been able to excel in both wrestling and football is because of the strength I've gained in the program. It has really changed me as an individual and allowed me to find something that I love doing. It's allowed me to become a harder worker, mentally tougher, and a better athlete."
Accolades: Varsity starter in football and wrestling; All-Conference Honorable Mention Defensive Back in football
Claire Fenton 2019-2020 Senior (Soccer and Basketball)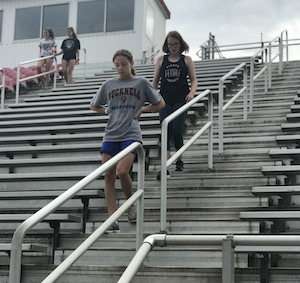 "I started the program last year when I was a junior because my soccer coach thought it would help us get ready for preseason. My routine begins most days with a dynamic stretch and then we either do weights or speed and agility practice. Most of the weights we use for bigger muscles are with dumbbells, but if we're working on our hips or backs, we do resistance training with bands, or we just use our body weight. For speed and agility training, we do a few different things. Sometimes we use mini-hurdles, while other days we'll do a timed one-mile run followed by sprints or running the bleachers. I feel that the more I go to the sessions and the more work I put into them has helped my endurance. I definitely feel stronger and faster than I would have if I had not done the program.
Accolades: Member of the varsity soccer team and the 2018-2019 girls' varsity basketball team that advanced to the PIAA playoffs
Eddie Farrell 2019-2020 Senior (Football and Wrestling)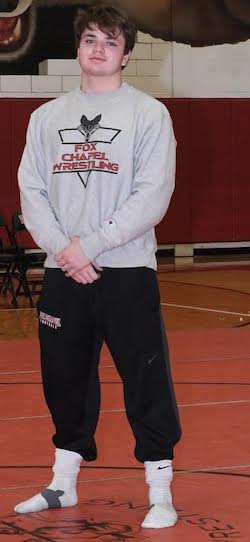 "I started lifting in ninth grade. I wasn't in bad shape, but I had never lifted before. One of the reasons I started lifting was to get stronger for football and wrestling so I could make the varsity teams. I was a starter in wrestling toward the end of my freshman year when the guy ahead of me got injured, and I've been a starter since then. In football, I made the varsity special teams unit as a sophomore. This year, my positions are left guard and defensive end. My fitness goals have gotten higher and higher every year. As I have gotten stronger, I also feel that I've gotten faster and I'm more flexible."
Accolades: Varsity starter football and wrestling, 4th place, Allegheny County High School Wrestling Tournament; 2019 – Top 8 in weight class at WPIALs; 2018/2019 WPIAL wrestling qualifier