The morning of the 2019 WPIAL Class AAA diving championships, Jonah Cagley started his day just like he would on any other Saturday. He slept in late, made himself an egg sandwich, and then started to watch the television show "How to Get Away With Murder," while he rolled out his muscles and stretched.
But, as the hours passed, the day turn out to be anything but typical. In fact, it had a fabulous ending as Jonah captured his third consecutive WPIAL champion's gold medal. His score of 588.95 was a stunning 31.30 points higher than the silver medalists and more than 52 points higher than his own score from last year.
"I think it was the best I've ever seen Jonah dive," says Foxes' diving coach Vernon Yenick. "He was confident and just looked very polished. I've coached some amazing divers over the years, but I do believe that Jonah is probably the most prolific, talented, and strongest of them all. Coaching him has kind of been effortless and it's been an absolute joy to work with him. Actually, I feel as though I should be thanking him for so many great years."
And so, for the fourth time in his high school career, Jonah, a Duke recruit, will make another return trip to Bucknell University where the PIAA diving championships will be held March 13-15. Last year, Jonah finished third with a score of 483.75, and that was more than 50 points higher than what he posted as a sophomore.
Jonah was a favorite to medal at the PIAA meet last year, but the top two placers were seniors and given his vast improvements in just 12 months, the Foxes' senior is a favorite to win it all this time. He'll be facing a tough record though. In 49 years, only eight divers from the WPIAL have won the PIAA Class AAA title, but Jonah is hoping to make it nine.
The Climb to Perfection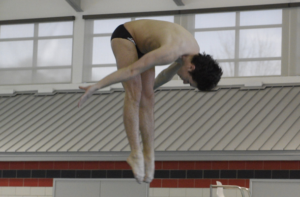 Jonah says the improvements in his scores aren't due to adding more or harder dives but, rather, it's because he is paying more attention to the little things.
"I've just been focusing on cleaning up my dives," he says. "It's all in the details, like pointing my toes, making sure my legs are perfectly straight in pike position, and cleaning up my entry."
Plus, he had a strategy going for dive placement.
"Going into the meet, I put my hardest dive, a reverse two-and-a-half, as my first one. I've struggled with it before, so I wanted to get it in the preliminaries so I wouldn't have to worry about it," he explains. "And then I put my second hardest difficulty dive last, so if it came down the last dive, I knew I could hit it."
Unexpected Setback
Most people don't know that Jonah sustained an injury in December that very well might have eliminated him from competing. It was, he says, the biggest setback he's faced so far in life and in his diving career.
"I fractured my sternum in an accident, and then I started to have lower back issues," says the 4.0 student athlete of his near month-long recovery. "I wasn't able to fully perform the dives I'd be doing in WPIALs for about three-and-a half weeks. All I could do were basic dives and I worked on my conditioning."
What he discovered about himself throughout that ordeal is something he'll carry for the rest of his life.
"I learned that I'm mentally stronger than I thought I was," says Jonah. "I now know I can bounce back from challenges, and that my will is strong."
A Good Life Balance
Jonah's self-discovery of the depth of his inner powers will be of great value next year when he moves on to Duke as the pressures of balancing sports and academics further intensifies.
"I already train a lot between the high school practices and as a member of the Pitt Diving Club," he says. "I'm also taking a lot of Advanced Placement (AP) courses. I know that's a small scale version of what's to come, but I've really learned how to manage and balance my time at Fox Chapel Area High School, so I hope that will help me."
Academically, Jonah's dream once he gets to Duke is to study medicine. He says, "I think I was a freshman when I decided that. I was always good in science, but then in freshman biology class, something just clicked. That's when I decided to double up in science and take as many courses as I could.
"This summer I shadowed a dermatologist, a trauma surgeon, and a physician assistant in infectious disease. They were all very interesting, but I don't think I'm cut out to be a surgeon. I'm a people person and surgeons don't have as much interaction with patients as I would want."
Staying Present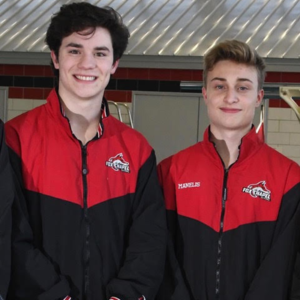 Right now, Jonah is more focused on continuing his five-day-a-week, two-and-a half hours of practices in preparation for states. He's looking forward to sharing the experience again with his teammate, sophomore David Manelis, who placed fourth at WPIALs this year and also advanced to the PIAA meet last year as a freshman.
"Every year is always exciting and a little different," Jonah says. "I'm looking forward to going again, but I'm not focusing on a specific number of points I want to get. I don't have a specific goal in mind.
Actually, throughout the day, I'm trying not to think about it."
"Jonah has crossed the biggest hurdle of the season, and that was his injury," adds Coach Yenick. "He's now at a level of maturity where he's confident and knows what he has to do. And I feel confident he will do it."