Former Fox Chapel Area tennis player Karsten Lagerquist was recently voted by the students and faculty of Grove City College as the 2021-2022 Senior Man of the Year, the highest honor bestowed by the college. Karsten received the award in recognition of his exemplary athletic and academic contributions to the college.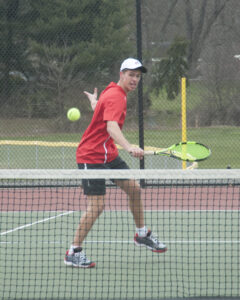 When Karsten was on the Foxes boys tennis team from 2014-2018, he played doubles and, most days in the offseason for seven years, could be found on the court teaching young, aspiring players with Foxes coach Alex Slezak. When Karsten decided on Grove City to further his academic and athletic interests, he continued to excel and became a four-year starter and captain of the men's tennis team, as well as an academic standout.
Even when Karsten was a freshman, the Grove City head tennis coach praised him, saying he had "emerged as one of the region's top newcomers" in both doubles and singles play. By the time Karsten graduated this past spring, he had lived up to that reputation – and much more.
This season alone, Karsten helped the Wolverines win the President's Athletic Conference (PAC) championship, was named the tournament's most outstanding player, and was recognized by the league's head coaches as the 2021-2022 PAC Player of the Year. Karsten and his doubles partner also were named first-team All-PAC for two consecutive years.
Individually, Karsten was the team's top singles player in his senior year with a cumulative 26-7 record in singles and doubles. He concluded his collegiate run with an overall record of 71-45 (35-20 in singles and 36-25 in doubles). His significant contributions were key in the Wolverines advancing to the second round of NCAA District III championships this season, something that had not been achieved in many years.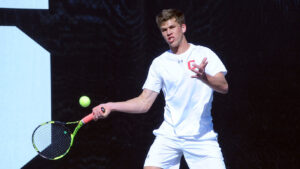 Also a leader in the classroom, Karsten earned first-team All-PAC academic honors three times, and this year was named to the NCAA Division III First-Team Academic All-District IV Honor Roll by the College Sports Information Directors of America.
Although his collegiate years are now behind him, Karsten says, "I'm not hanging up the racquet, that for sure. There are plenty of adult leagues to play in. There's a USTA (United States Tennis Association) men's summer league, and I know college grads who like to play for fun."
Meanwhile, Karsten's younger sister, Britta, an alum of the Foxes girls soccer team, is a rising sophomore at Grove City. She had an impressive freshman year as a member of the Wolverines soccer team and started in 15 games. Britta was named PAC Rookie of the Week on October 25, 2021, and helped her team advance to the 2021-2022 PAC championships.