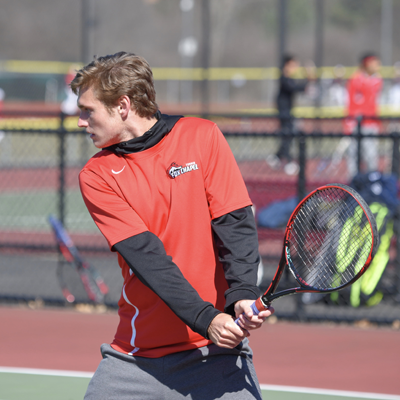 Over Memorial Day weekend, Robby Shymansky pulled off a feat that no other Fox Chapel Area boys' tennis player has been able to do in 44 years – he won the PIAA Class AAA boys' tennis singles championship by defeating last year's winner Sameer Gangoli, 7-6, 4-6, 6-3.
It was a grueling three-hour revenge match that not only tested Robby's athletic and strategic skills, but perhaps even more, his grit and mental approach to the game. After a heartbreaking loss to Sameer in three sets at the PIAA team semifinals the week before, he vowed not to let that happen again.
"I was really excited to have the opportunity to play him again, and there was definitely no shortage of motivation after last weekend, which felt horrible," says Robby, a Yale recruit. "The revenge factor was definitely on my side, which helped, and I just didn't want to let him breathe this time. Sameer is such a great fighter and he still made it extremely hard, but my extra motivation got me through the match."
"He took that team loss terribly hard because he felt he had let everyone down, but I told him that if he wins singles, it's for all of us," says Foxes' Head Coach Alex Slezak of Robby's close match in the team semifinals. "Winning in tennis is very different than every other sport because there's no clock you can run out with the lead. You have to finish off your opponent and that is very, very difficult at the highest levels of the game. I am just so proud of Robby. He trusted his training and played to win."
Leaving Behind a Legacy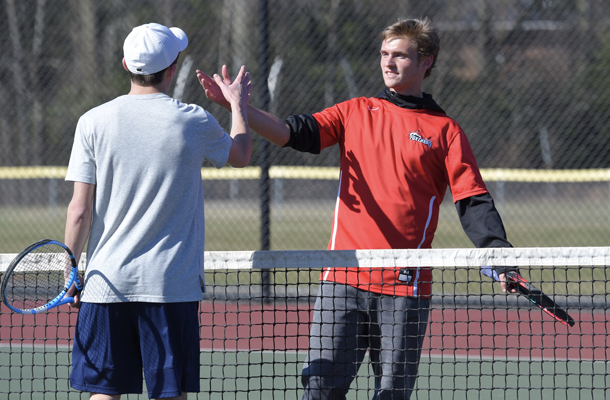 In Robby's four years with the team, he never lost a home regular season or home playoff match and accrued 104 career wins and only 10 losses. He was the WPIAL Class AAA champion twice, and advanced to states all four years. As part of the team, he helped lead the way to four consecutive WPIAL Class AAA titles, four straight Class AAA section 3 titles, and a four-year team record of 70-5. With this season's 2019 WPIAL gold medal now in hand, the Foxes' team tennis program tied the WPIAL all-time record for consecutive wins and they began to be known as the "four for four" team, and a team of many firsts.
Coach Slezak, who took over the team when Robby was a freshman, says coaching Robby and a special and talented group of other players, has been like no other. "It just so happened that at the same time I came in, there was a group of really good kids," he says. "We changed up the dynamic of the team and grew from there. What I wanted to do was build a culture that instilled a strong work ethic, the pursuit of excellence, and a love for competition that would serve the players well on the court and in life."
However, despite Robby's success and that of the team, it turned out that winning the state championship was elusive. Each year since he was a freshman, Robby had been ranked as the top high school player in Pennsylvania in his grade, and he had advanced to states all four years, but until this year, things just didn't pan out as he would have liked. Robby finished in second place in 2016 and third in 2018.
"All of the disappointments made winning feel even better, and they motivated me a lot this season, which was great because in the end, they helped me to get better as a tennis player," says Robby,who, in addition to working with Coach Slezak, has trained with local coach Craig Perry since he was a little boy.
On to Yale
Robby always has played a very physical style of tennis and is a grinder, but he believes reaching his full potential is ahead of him.
"To reach that level, I have to get more comfortable moving forward into the court to end points and stepping into my backhand and taking it early," he says when self-assessing.
He'll have the opportunity to do just that when he joins the Yale men's team in the fall. Coach Slezak believes Robby will play relatively high in the lineup and continue to do the same amazing things he's done all along.
"It's going to be tough playing there, and next year we should have a great team, so I'll need to be ready," says the state champ. "I'm going to play in a lot of tournaments this summer to be ready."
But before that happens, the reflective senior reveals how much his high school tennis career has meant to him, and says, "It's just been an unbelievable experience, and I've had the best coaches and teammates I could have asked for. It feels great to leave a legacy at my school and be part of history. It's a great finishing touch on my high school days."