Eight Foxes wrestlers medaled at the recent Class 3A WPIAL Northern Section Tournament, which qualified them for the upcoming WPIAL championships on March 3 and 4 at Canon-McMillan High School. It has been a while since that many Foxes grapplers have advanced to the regional tournament, proving, once again, that the attention, time, and encouragement put in at the youth levels of the program are paying off.
"Of the eight qualifiers, six of them have been with us since the youth program, and the other two started at Dorseyville Middle School," says head coach Michael Frank. "This has definitely had a big impact on our current success."
Leading the Foxes at sectionals was silver medalist junior Alex Kaufmann (152 lbs.). He is seeded seventh in the upcoming tournament. The other seven Fox Chapel Area High School medalists who will represent the Foxes are senior Trevor Katz (189 lbs. – seeded 6th); sophomores Landon Funk (107 lbs. – seeded 4th), Michael Worsen (114 lbs. – seeded 5th), Milo Chiu (145 lbs. – seeded 3rd) and D'Angelo Hamilton (285 lbs. – seeded 4th); and freshmen Adam Haines (121 lbs. – seeded 6th) and Joey Geller (172 lbs. – seeded 5th).
The top four medalists in each weight class will go on to compete at the 2022-2023 PIAA Wrestling Championships in Hershey from March 9-11.
Top Performers
For Alex, Trevor, and Michael, this will be a return to the WPIAL championships after qualifying last season. All of the Foxes will compete against many of the same tough opponents they faced throughout the regular season, as well as at the Allegheny County Wrestling Championships held at Fox Chapel Area High School in January.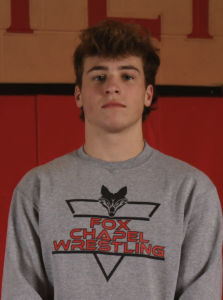 "Since counties, I have really been fine-tuning the small details in my wrestling and keeping everything clean," says Alex, whose 2022-2023 record is 24-5, with 15 pins. "At this point in the season, it is all about staying in good position constantly and getting the small things right."
Trevor, currently 26-12, who has been with the Foxes' program since first grade, says, "I hope that I can use the lessons I learned there (at the county tournament) to improve. I have been trying to focus on the basics. I am not going out and learning new things, but, instead, am refining what I know works for me. I am working to get into positions that I know I can score from and setting up better offense from the neutral position. I want to set the pace and intensity in the match, and wrestle my match, not allow the other kid to control the match."
Coach Frank is pleased with how hard his wrestlers worked this season, saying, "All of these young men have set some high goals for achievement and have been working toward them for a long time. Milo and D'Angelo have made really big strides throughout this season. They've continued to grow as wrestlers and have improved in all areas. Landon and Michael have been the pacesetters in our practices and matches. Their intensity is something that has helped them find success thus far, and we're looking for them to bring that into the WPIAL championships. Our two freshman qualifiers, Adam and Joey, needed some time to adjust to varsity wrestling but did well making that change as we've progressed through this season."
For Trevor, the best part of the sport goes beyond wins and losses.
"All of the people and coaches I have met through wrestling have made an impact on my life," Trevor says. "It has taught me to go out of my comfort zone and push myself. The difficulty of the sport taught me discipline and self-control, and how to push through the hardest practices. I've also formed some great friendships. It makes me so proud to see my teammates succeed and wrestle their best. Seeing Alex make it to section finals, and seeing D'Angelo make massive improvements over the season are just a few highlights from this year. I would not trade my experience with this sport for anything."