Last season, the Foxes baseball team fielded a good deal of experienced and talented players, but many of those athletes graduated, leaving big holes to fill. Now, between the returning starters, those who have ascended the depth chart, and young, promising underclassmen, the players feel optimistic about their chances of getting back to the WPIAL Class 5A playoffs once again.
The Foxes have had some impressive victories so far, including a spectacular come-from-behind win in extra innings over Penn-Trafford, the team predicted by some to win Section 1. Young southpaw sophomore pitcher Jeremy Haigh got the win, and senior Juniata College recruit Zach Johnston drove in the winning run in the eighth inning.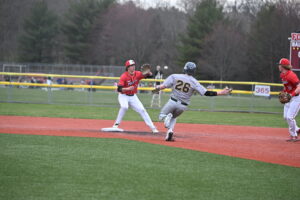 "Jeremy obviously pitched a great game, and Zach, as well as Troy Susnak, really stood out both offensively and defensively," coach Jim Hastings said.
The Foxes followed up that impressive performance with two more section wins in games against Penn Hills.
But coach Hastings is still looking for more consistency and production at the plate, as well as from his pitchers.
He says, "Each week we will be in the game, but we're working on getting more strikes and better at the plate," he says. "Everyone is working hard, and it's been fun watching the returners improve and see the underclassmen come together and grow as players."
The other returning varsity starters, in addition to Zach, are senior catcher Jack Resek and junior infielder Benny DeMotte, last year's top hitter. In addition to Jeremy, senior Dom Cassol also returns as a pitcher. On the watch list are third baseman Troy, a junior; junior catcher/first baseman Mitchell Epstein; and outfielders junior Logan Hoffman, seniors Dylan Geibel and Matt Fugh, and sophomore Franco Pistella, who has started every game in the outfield, but has been most impressive on the mound.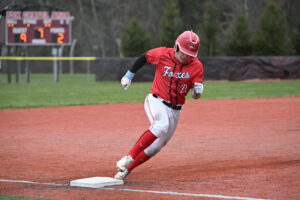 "Franco is only a sophomore, but he has the most innings pitched behind Jeremy and won our last game against Penn Hills, where he struck out nine batters in five innings," says coach Hastings, who has taken his teams to the playoffs each year of his tenure, minus one year when the pandemic caused the season's cancellation. "Besides Franco, if we are going to succeed, we need all of these players to produce."
Troy, a player who has paid his dues and earned the starting third baseman slot this season, cites what he believes he contributes to the team. He says, "I think my strengths at third base are the ability to read slow rollers and chipper ground balls. Also, I think my ability to throw the ball on the run has greatly improved since my freshman year."
He goes on to say, "We are 3-1 in the section (as of 4/9/23), so everybody is excited for what the rest of the season holds. Although the team is on the younger side, I feel like we can compete with any team we play. We are truly a team that works together to win."
Matt, a hard-working team leader, says there have been quite a few instances so far that have demonstrated the team's potential. He said even though the team suffered a loss against WPIAL-ranked Shaler in their first game of the regular season, their effort demonstrated potential and that "we are real playoff contenders."
Shortstop Zach says, "I think the main difference now is that nobody plays for themselves; we play for each other as a team, and that motivation is unwavering. I also think we have a better ability to block distractions out and stay locked in on the  game. Our team's strength lies in our ability to make plays when they are needed. We already have been put in many stressful situations and have made the plays we needed. What we need now is to string together hits."