When lacrosse defender Will Cooper is not on the field, he loves to travel. For the past two years, one of the destinations the junior has most looked forward to is the one that ends at the WPIAL playoffs. This year, that trip finally materialized, and Will was a solid contributor to that journey.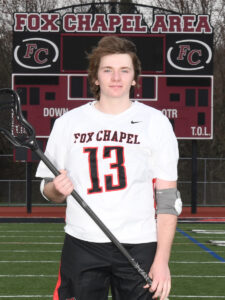 "Will was a big part of the equation and has quietly played some great games," says Coach Kevin Devinney. "But sometimes it's easy to overlook how well he's playing, because the attackman he is marking learns early in the game not to dodge against him and ends up passing the ball to other teammates later in the game. Will did struggle with an injury this season, but you'd never have known it by the way he played on the field."
The process of getting to the player he is today started when Will was in third grade and decided to follow his friend's interest in playing lacrosse. Prior to that, Will had played youth soccer but wasn't really enjoying it.
"I liked the fast pace and aggressiveness of lacrosse and how unique it was," Will says. "I think it fits my personality."
When Will entered high school, he earned some varsity playing time as a freshman and was poised for a breakout year as a sophomore before the pandemic occurred.
"Will has always been very athletic, but he's matured mentally as a player over the last few years," says Coach Devinney of his player, who ended the season as the team leader in caused turnovers. "Despite his physical style of play, he managed to stay out of the penalty box, which was a huge boost for our team because we want to avoid playing man down as much as possible. He also does well on ground balls and stick handling on top of his defensive responsibilities."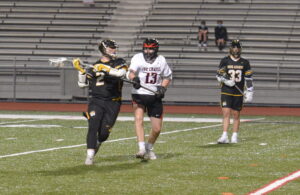 Will adds, "I'm really dedicated to the team, and going to the playoffs meant a lot. With all the work we put into getting there, we deserved it. Making the playoffs was huge for us. Although I'm disappointed that our season ended with a first-round exit, it served as a learning experience for all of us and will only make us stronger for next season. Due to our team being mostly juniors and freshmen, we had almost no postseason experience, which was definitely a contributing factor to our performance. With that being said, we're only graduating three seniors and most of our roster is returning. This experience (of going to the playoffs) will prepare us by showing what we need to improve upon if we want to make a run again next season."
"In terms of Will's role as a senior next year, I really just want more of the same from him defensively," says Coach Devinney. "He's been dealing with some knee issues, so I hope he will be healthy next season so he will be able to help clear the ball more effectively and lead transitions whenever possible. I'm looking forward to seeing him continue to progress in the offseason and take his game to an elite level."
In the meantime, Will has time in the offseason to up his game and enjoy some of his hobbies. In addition to traveling, some of his other interests include computer graphics. His specialty is editing photographs in unique ways that make pictures "pop" using different methods. He also has a newfound interest in cooking and has discovered tasty recipes for what he deems as "the basics" – chicken, pasta, sausage, and hamburgers, to name a few.
"It (cooking) came about because I was really hungry one day and when I opened the refrigerator, there wasn't anything in there that I wanted to eat," says Will. "So, I decided it was time to learn how to cook."
While he's in the kitchen, it's a pretty good bet that Will also will be thinking about another coveted journey to the playoffs. It's something he's hoping will put a great cap on his final year of high school athletics.