When rising sophomores Sophie Shao and Talia Bugel hit the pool as freshmen in the winter, to say they made a splash would be an enormous understatement. Both swimmers broke a number of school and pool records throughout the season, sometimes repeatedly breaking their own records, and Sophie won a PIAA gold medal on her first attempt. Now, both girls have been named All-Americans by the National Interscholastic Swimming Coaches Association.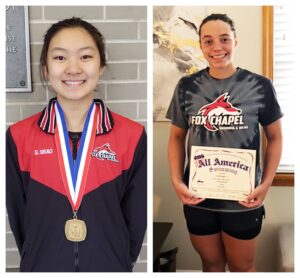 Sophie's top time of 54.22 in the 100 fly at the PIAA Class 3A Swimming and Diving Championships earned her a ranking of 28th in the nation. Her win made her the first female swimmer in school history to stand atop the winner's podium in the 100 fly.
She was also the WPIAL champion in that event.
Talia's freshman year also was marked with huge successes. She was the top-ranked swimmer going into WPIALs  in the 100 backstroke, with a time of 55.68. There, she medaled and advanced to the PIAA competition, where she also medaled. During the regular swimming season, Talia beat her own new school records twice within the same week. She is ranked 98th in her signature events.
Both swimmers also were members of several relay teams and swam other events when needed.
Talia's reaction to making the prestigious list of All-Americans was one of shock. She says, "I was thoroughly surprised and extremely excited when my coach told me I made All-American. It never occurred to me that it was possible for me to make it."
Sophie adds, "It means a lot to me to be named an All-American. Thanks to my coaches and swim team, I'm able to represent our high school and see my hard work pay off."
Prestigious Honor, But More Work Ahead
Sophie admits that the rare circumstances of COVID-19 and only being able to do dryland practices and workouts was hard. Being away from the pool for months was extremely difficult, as both swimmers are preparing to achieve qualifying time standards that will allow them to advance to the 2021 Olympic trials.
"During the shutdown, I worked out six days a week like I normally did, just without swimming," says Sophie of her adjusted workout schedule. "Most days, I would kickbox and stretch with other exercises. The hardest part was controlling my diet, because I was so used to eating a ton of food due to swim practice. I also attended webinars, which kept me motivated."
Talia used a slightly different approach.
"I tried a variety of exercises like running, weightlifting, and exercise videos" she says. "It made me realize how much I appreciate swimming and how it is a large part of my life. I tried other sports and exercises like running, but none of them came close to swimming. I greatly missed it over the break, and I want to push myself even harder than last year."
Talia's goal is to win WPIALs in the 100 back and swim close to a time of 53 seconds. She also wants to train for the 200 free this year, instead of the 50 free that she competed in last year.
"I need to get back to where I was before the quarantine, which will be challenging," Sophie admits. "I've got a lot of work ahead of me." Her sights are set on winning states again in the 100 fly with an even better time.
But before that, both girls will boost an already strong group of Foxes' girls swimmers as the team attempts to capture back-to-back section titles. After that, their sights will be set on top finishes at the WPIAL championships as part of their high school team and individually as well.
"Having two girls on the team earn All-American status certainly is an accomplishment and a validation of both talent and work ethic, which both Sophie and Talia have," says Coach Dan Taylor. "To make it even more impressive, they both were ninth-graders at the time. I anticipate that they both will be highly motivated this season, not only for high school swimming, but also to achieve Olympic trials qualifying times."