Earlier in the season, one of the local sports reporters approached boys basketball coach Zach Skrinjar and, to paraphrase him, told him that Eli Yofan was really a good player, but he hadn't heard about him. "Where has he been?" he asked Coach Skrinjar. The coach's response: "Yeah, he's one of the best players in the WPIAL that no one knows about."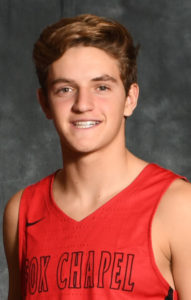 Well, everyone is taking notice of the 6-foot guard now. Even though Eli started on varsity as a freshman last year, it's now, as a more mature sophomore, that he is proving to be a gamechanger on both offense and defense. He is averaging 15.8 points a game, with 5.7 rebounds, 3.2 assists, and he's scored in double digits in 16 out of the 19 games he's played. His consistent performance and ability to involve many players in his game are big reasons why the team has won its first outright section championship since 2007 and is on its way to the WPIAL Class 6A playoffs.
Senior defender Shane Susnak, who also was the Foxes' quarterback this season and led them to the WPIAL Class 5A playoffs, offers his take on his teammate. "Eli's best quality is his basketball instincts. Offensively, it helps him to make good decisions for himself and others, and it really shows on defense where he gets deflections, steals, blocks, and rebounds. He is always in the right spots, and he is explosive with the ball in his hand. He also plays fearlessly. He is just a great teammate and person. I know that I love playing with him."
Natural Athleticism
Even from the time when Eli was four- or five-years-old, he had a lot of energy that he put toward athletics. Even today, besides basketball, the tri-sport athlete plays soccer in the fall, earning all-section honors this past season, and puts his height to good use on the Foxes' volleyball team. He loves playing all three sports, but basketball has become the sport that he sees himself playing in the future.
"I was in about seventh grade when I started to get more into basketball and thought maybe I could do something with my life that involved it," says Eli, who is also an officer in the high school's Best Buddies program. He estimates that he has a basketball in his hand at least four or five times a week, even in the summer, when he plays pick up with his friends or practices by himself in the gym. Two particular skills he spent a lot of time working on since last basketball season are leaping, jumping, and ball handling. That hard work has paid off because he is, by all accounts, a momentum changer.
"We've known for a while that Eli has unique talent," says Coach Skrinjar. "He has quiet confidence and controlled emotions on the court, but what I love the most is when he dunks (the ball) and the rest of the team gets so excited for him and the team. Eli is not a selfish player and, when he has the ball, he involves his teammates in everything he does."
Bring on the Challenges
"When Eli is challenged, he's very dynamic," says Coach Skrinjar. "As the games get bigger, he shines brighter. He loves to guard the other team's best player, and if someone gets by him, he'll make him pay for it."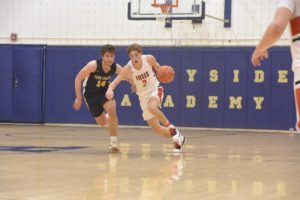 "I am very competitive and don't like losing," agrees Eli, who maintains a humble, polite demeanor, despite all of the attention he's getting. "I think when I'm under pressure is when the fire comes out in me – when I know I need to do whatever I can for the team to succeed."
So far, the game Eli believes was his best was the recent one held January 24 against Hempfield. When the Foxes played them at home earlier in the season, they got a slow start and it wasn't until the second half when they played a more complete game. That was a repeat situation. "Our offense and defense played really well, and we beat them by 24 points. We clinched the section title that night."
Amid Eli's busy tri-sport schedule, you would think that another of his biggest challenges is time management to get his studies completed. It appears as though he has that under control too. He holds a 3.85 grade point average and, this semester, is taking accelerated classes in chemistry, English, and pre-calculus.
His best friend and basketball teammate JP Dockey, who is also a sophomore, says, "Eli is just really talented. He has a lot of potential ahead of him."