When the members of the girls soccer team started the season, they were somewhat of a Cinderella team dreaming about big plays, big days, and big wins. After failing to make the playoffs last year, they came out with something to prove, and they have done that, especially in the WPIAL Class 4A playoffs.
The Foxes will play in the WPIAL Class 4A championship game on Thursday, November 2, at Highmark Stadium.
Going into the postseason, Fox Chapel Area was ranked sixth, but the team came out with such determination, power, and an impressive display of teamwork that they knocked out No. 2-seed Upper St. Clair and No. 3-seed Peters Township.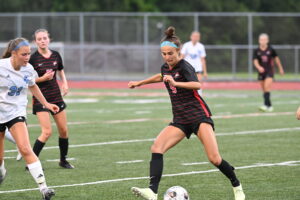 In the quarterfinals against Peters Township, the Foxes overcame a halftime deficit of 1-0, only to come back with fury to score five goals in the second half. In the semifinals versus Upper St. Clair, they also showed their grit, defeating the Panthers 5-2, breaking a 2-2 tie at the half.
Now, as the Foxes prepare for their biggest test so far against undefeated North Allegheny, last year's WPIAL champions, they have the momentum and confidence to do something that many doubted early on. Plus, they are riding on the success of all-WPIAL seniors Kate Friday and Anna Troutman; the strong leg of all-WPIAL freshman Emily McKee, who leads the team with 21 goals; and a talented young core of players.
"This team has so much heart and fight," says second-year coach Carlo Prati, who was selected as the WPIAL Class 4A Section 1 coach of the year. "They have a never-give-up attitude. I've been so proud of how they have handled themselves all year long. We have been underdogs all year and just have been taking it one game at a time.
"I told the girls the first game of the year when we played Oakland Catholic at Highmark Stadium that if we play how I know we can play, we will not only play at Highmark the first game of the year, but we will be there at the last game, too. Everything has panned out as it should."