Just recently, girls lacrosse player Lindsay Scheffler scored her 100th career assist in a game against North Allegheny, which was a significant feat in and of itself, but then only two weeks later, she followed that up with a bookend achievement — her 100th goal. She now has a career total of 200 points and counting. It's pretty easy to see why head coach Kellee Cribby calls her "an absolute threat on the attacking end of the field."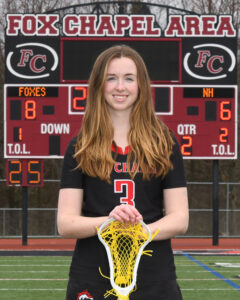 Lindsay's milestone goal, the first of three that day in a 16-2 section win over Allderdice on senior night, was set up with the help of teammate Sydney Schutzman. (Sydney earned her own 100th goal earlier in the season on an assist from Lindsay.) As they have done hundreds of times in the past, the two players worked in tandem to get the ball in the net.
"I cut up from beneath the goal and got a pass from Sydney, and then I just turned and shot. It's the same thing I've done so many times," recalls Lindsay, who followed in her sister's footsteps and started playing the sport in third grade. "I really started to play because I was jealous that she played a sport that I didn't!"
Lindsay says reaching both personal goals was very rewarding after playing for nearly a decade. But her larger focus has always been to help the team return to the WPIAL Class 3A playoffs, especially this season, as it is her final one.
"They (the assists and goals milestone) both are pretty special, but it's kind of a relief to get them out of the way," Lindsay says. As of April 25, the team had an 8-1 overall record and was 6-1 in section play. Last season, the Foxes lost in the WPIAL quarterfinals, and the players are eager to finish what they started in 2022.
She then adds, "It was nice to do something on my own, but lacrosse is such a team game, and you can't operate on your own. Our goal this year has been mainly to play organically off of one another, and I think we definitely do a good job of doing that, as well as setting up opportunities for each other. We have a lot of talent this year, so it has been great to see our scoring coming from not just me, but everyone. We are playing with a lot of fire this year, and everyone on the team wants to win."