Sophomore Mason Miles didn't start the day off with his best throws at the WPIAL Class 3A Track and Field Championships, but by the end of it, his technique, strength, and determination landed him second place in the shot put and a trip to the May 27-28 PIAA championships in Shippensburg.
In many ways, Mason's rise to the top is not a total surprise. Earlier in the year, he broke the school freshman/sophomore record that was set in 1996, long before he was even born. His distance of 50'3.5" beat Tim Sasson's 49'3.5" throw. That personal best throw also set a meet record at the 2022 Marcie Peaco Track and Field Freshman/Sophomore Invitational held at Seneca Valley.
Mason's next goal is to beat 1998 alum Tim's overall school record of 54'6" set in 1997 when he was a junior.
While many coaches are reluctant to make predictions, throwing coach Scott Karavlan is confident that Mason has a bright future.
"If he continues to progress, I have no doubt that Mason could break our school shot put record," says his coach. "I've never taken such a young thrower to states. What he has accomplished is incredible. Mason's first throw in a meet last year was 34′, and he progressed throughout his freshman year, topping out at 40'3," which was better than your average freshman thrower. This year, he played football and basketball, and started the season two weeks late because of the basketball team's success, but he has grown taller and stronger since last year."
Head coach Tom Moul has equally positive things to say about Mason. "Mason is a really likable person and a hard worker who holds himself to a very high standard. One of the things I like about him is that he is a student of the game and of the history of track and Fox Chapel Area track. He is interested in all those who came before him, not only in his event but in others as well. Mason was in my classroom last week looking at all the names on the wall of fame, asking questions about many of them. It's fun to have someone like that on the team, as that attitude tends to rub off on the other athletes."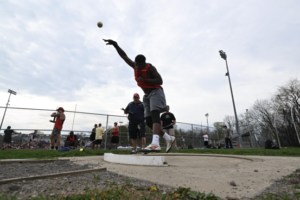 Channeling His Energy Into Athletics
"When I was young, I was a hyper kid, so my mom and dad put me on the soccer field and let me just run around," says Mason, a tri-sport athlete. He switched to football, added basketball, and then, after moving to the Fox Chapel area from Florida, signed up for track and field in seventh grade. He started off by doing the 100 and 200 in track and also became a thrower. It was during that time that he says he learned how much discipline it takes to do it all well. (His eighth-grade season was canceled due to the pandemic.)
"People think just because you are big and strong that you would be a good thrower, but there is a lot more that goes into it," says Mason, who puts as much effort into his academics as he does in sports and earned a 3.5 grade point average last semester. "There are kids who are small and don't look like they would be good athletes, but they have good technique and can get a lot further because of that."
In shot put, there are two techniques when throwing the 16-pound ball of metal: the glide and the spin. Mason has a good grasp on the glide but wants to do much better with the spin, which requires more complex movements in the circle, which can produce more power if done properly.
"I'm trying to learn to do the spin better because you can get more distance from it," says Mason. "I was doing 50-50 with my glide/spin, but coach Karavlan said to just stick with the glide for now and work on my spin over the summer. College coaches are going to want spinners and people who can move their feet well in a circle. I'm very motivated and will put the time in to do what I need to do to be great."
Another key to Mason's success so far is the result of great leadership from senior teammate Caleb Kulikowski, who took Mason under his wing the past two years.
"I can't say enough about Caleb," says Mason. "He is one of the nicest, most positive people I have ever met. He has shared so much of his knowledge with me and helped me a lot with my technique. I've also learned from him how to be humble, and that if I am not having a good day, there is always another one to do better. But as nice as he is, get him on the field, and he is an animal … a beast!"
Mason admits that he will miss sharing the experience of the championships with Caleb and the teammates he hoped would have qualified to move on. Their company would have helped to calm the nerves of this first-time PIAA qualifier. In the meantime, Mason is just focused on what he can control and is not worrying about other competitors.
"I know what the local throwers I've competed against can do, so I just want to be surprised (about the others)," he says. "I'm just going to go in and do my best, and I want to set a new personal record."
---
In addition to Mason, other track and field athletes medaled at WPIALs. They are Rowan Gwin (7th in 1,600); Caleb Kulikowski (5th in javelin, 6th in shot put); George Tabor (5th in triple jump, 6th in long jump); and the boys 4 x 800 relay of Rowan Gwin, Jordan Gwin, Jack Lorence, and Damian Blum (6th).