Lucy Ream is one of the best players to ever come out of the Foxes' girls' soccer program. In fact, her talent is at such a high level that she has piqued attention on a national level. Just recently, Lucy was placed on the watch list for the national 2020 High School All-America Team. Plus, she's already made a verbal commitment to play for NCAA Division I Eastern Kentucky University in next, where she wants to pursue a degree as either a physician assistant or certified athletic trainer.
Learning she was nominated for the national team came as a total shock to Lucy.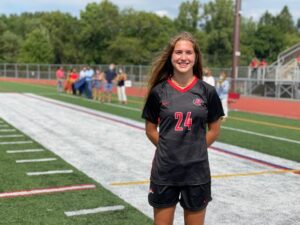 "It blew my mind," says the Foxes' ambidextrous left striker/attacker. "I know and have played with many girls who are so much better than me. I never thought I could even be considered in that category, so it's really a big honor."
That opportunity, along with others, will come in time, but right now, the senior is focused on helping the Foxes get back to the WPIAL Class 4A playoffs, emerging as champions, and then some. Her credentials should be a big help toward that group effort. Last season as a junior, Lucy was named to the Big 56 first team and the all-WPIAL first team. She was the leading scorer last year and tied for the most assists, and, as a sophomore received post-season section honors, which is rare for a player so young. With her club soccer team, Lucy played at the eastern regional tournament in 2018 and then the group advanced to nationals. Due to COVID-19, the team did not play in spring 2019.
Coach Peter Torres has this to say about his player: "Lucy is more than just a tremendous athlete. She plays at such a high level that she is one of the most dangerous players in the WPIAL. She has evolved from a talented striker who could dribble well, into a dominant player at practice and during games. Her training has evolved to a level that not many players can get to. She expects the best from her teammates, and she elevates their play with her attitude, determination and leadership."
Despite the accolades coming from a variety of sources, Lucy, a varsity player since she was a freshman, still works on her game continuously. This season, she wants to improve her defensive skills. She explains, "The outside wings need to track back and be even with the ball, and sometimes I have a hard time tracking the ball and the player at the same time. So that's something I'm working on."
Toward that end, and life in general, Lucy says the best advice she's every receive came from a summer camp counselor. "She told me to not to be afraid, go full speed ahead, and don't shy away from anything."
                                                                        ***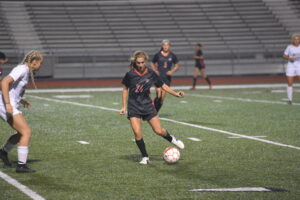 Every athlete has something he or she likes best about their sport and or position, and for Lucy it's being able to showcase her speed, take the ball down the field, and then cross it so someone else so they can score. She says, "I like to set up plays and not necessarily be the one who scores."
Her unselfishness comes from being a student
of the game and experience. She's also had the opportunity to watch her three older brothers play sports and has learned from their experiences.
"I think my most improvement over last year has been in understanding the game and maturing as a player who isn't seeking personal gain, but more thinking about it from a team perspective and how I can contribute to the overall effort," she says. "My style of playing is to watch how the other team is playing in the first few minutes and then how I can make their weaknesses my strength. But I am just one part of the team; there are nine seniors who can lead this team, and even some juniors."
                                                                       ***
Lucy is a natural leader but says her on- and off-field personas are different. "I do think I'm unselfish in general and like to be the light and funny person who goes to extremes to make sure everyone is happy. But on the field, I can get very competitive because I really want the whole team to work hard."
Lucy's intensity will be a driving force as the team competes in a new section this year that includes tough competitors Norwin and Penn-Trafford, both of whom the team has met in the WPIAL playoffs in past years.
"I think as seniors we've come in better than last year, and we are coming back with even more determination," Lucy says. "We want to find combinations on the field that will make our playing look effortless and, each year, set the bar higher for future teams."
As far as Coach Torres is concerned, Lucy has set a new standard herself. He says, "Lucy will leave a lasting memory when she departs the program. I look forward to watching her at the next level and intend on using her as an example for other players to learn from."