When Troy Susnak tries to imagine himself at his final football game of his high school career, helmet in hand and wearing his number 42 jersey, he isn't exactly sure what to expect or how he will feel. After four years on the team, two of them as a varsity starter who earned all-section honors, Troy is certain of one thing: H does not want to feel regrets about anything – and nor should he. The senior went into every weight room session, every practice, and every game knowing he had given 100%, fully committed to doing the best job he could, even under the toughest of circumstances.
Troy is a player whose prominence on the field doesn't necessarily show up in stats. Yet, make no mistake: His talent and effective style of leadership are indisputable. He's not known for being a boisterous "rah-rah" type of leader, but his own definition fits him perfectly – "approachable, level-headed, and never gets too high or low."
"Sometimes in order to inspire people you don't need to say anything, but rather set an example," Troy says. "In my opinion, working hard and going 100% is contagious due to the constant competition and constant desire to win both in practice and in games."
Coach David Leasure describes Troy as one of the team's most versatile and respected leaders.
"Being a unanimous selection as a captain really says it all," says the coach of the linebacker and tight end. "It's one thing for a coach to see it, but for 15- to 17-year-old kids to recognize and appreciate it is something else. Troy doesn't pretend to be someone he's not, and any of his teammates, freshmen through seniors, feel comfortable approaching him.
First-year coach Leasure had a difficult task this rebuilding season as he tried to create a stronger culture of dedication, commitment, and team play. He also instituted a game plan and formations that were unfamiliar to most of the players. There was a lot to learn this season, but Troy was one player who coach Leasure knew he could count on to facilitate the process and offer help to anyone who needed it.
"Overall, Troy just is extremely valuable to the team," coach Leasure says, "and not only from a player standpoint, but also his leadership on the field. He seldom, if ever, comes off the field and probably plays about 90 to 95% of the snaps each game."
The absence of wins this season did present the players with a large amount of adversity, although Troy believes the challenges will benefit everybody in their future endeavors.
"I feel that it's important to show the younger group of players that, no matter what the circumstances might be, you should always fight for your pride and your teammates," says Troy, a member of National Honor Society, founder and president of Students 4 Success, a scholar athlete awardee, and Future Business Leader of America meritorious student award winner. "They need to understand that throughout the course of a game, there will be highs and lows, but they should keep playing with full effort. I really feel that we are all competitors and are a team that showed up every week giving maximum effort."
His own positive attitude was influenced by his parents, his brother Shane (a very successful quarterback for the Foxes several years ago), and, over the years, his numerous football and baseball coaches.
"I try to just keep moving forward and focusing on what is ahead, rather than dwelling on the past, as the past cannot be changed," says Troy, who also is a third baseman and pitcher for the Foxes baseball team. "One of my baseball coaches, coach Burger, has a saying, 'Look back, but don't stare.' This has always stuck with me as it is a very simple, yet effective way for me to handle adversity."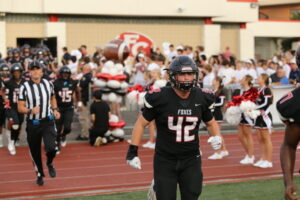 Helping Others Always a Priority
Playing football might soon be in the rearview mirror for Troy, but he still has a lot of things he wants to accomplish before he graduates in June, and some of them relate to the future of the football program.
Last year, Troy and 2003 graduate Zach Sullivan co-founded a group named Students 4 Success, an offshoot of Boys into Men. The latter program was only a one-year effort. Troy now serves as president of Students 4 Success and, working with sponsor and coach Anthony Griggs, he has spent months getting it organized and recruiting volunteer mentors.
The aim is to forge relationships between new incoming freshmen athletes and their high school counterparts. As upcoming freshmen, those players will need to tackle a whole new set of concerns once they get to the high school, and Troy wants to not only ease that transition but make it one in which the kids have the self-confidence and knowledge they need to succeed on and off the field.
Group meetings and other get-togethers will present opportunities for the new upcoming freshmen to talk about any anxieties they might be feeling. In contrast, the mentors will talk about how to successfully balance sports, a more rigorous academic schedule, and in some cases, a job. It will also give the older student-athletes a platform to relate some of their own experiences as freshmen and what they wished someone had told them before they entered high school.
Lisa Gibson, gifted support facilitator at Fox Chapel Area High School and a National Honor Society sponsor, says what Troy is doing is inspirational.
"Troy is a young man of integrity who truly wants to serve as a positive example for his peers," says Mrs. Gibson. "He is driven and responsible, and I know the Students 4 Success program could not have become a reality without his leadership."
Besides this effort, his football and baseball accomplishments, and a record of academic excellence, Troy wants the footprint he leaves behind to be one where he is remembered as a stand-up person, loyal friend, and strong student-athlete.
Coach Leasure succinctly sums up Troy's impact as a whole. He says, "I don't have words to describe what a complete football player, teammate, student, and person Troy is because, quite frankly, you don't come across someone like him every day. It has been a pleasure to coach him."