Members of the Foxes' indoor track teams did well last season, and Coach Tom Moul believes that trend will continue, and then some.
"I'm excited about this season," says the coach. "The program has gotten stronger each year, and I'm hoping that growth will continue this year. All of the kids have been working hard so far, and the level of focus has been very good too. We also have a number of athletes who are on the outdoor team who decided to do indoor this year too. I'm looking forward to seeing how they progress."
Field Showing Promise
Coach Moul says a number of his field athletes are showing promise.
Senior Warner Macklin, who qualified for WPIALs last year in outdoor track in the triple jump, decided to do indoor track this year to build on his past achievements.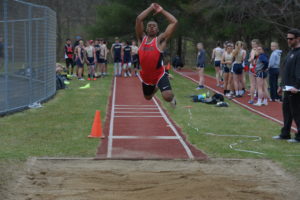 As the team's only triple jumper, Warner wants to best his 42'4" top jump last season that qualified him for WPIALs. "I want to get to 44' this year, and I think I can do that," he says. "I also decided to get an early start with indoor this year because our 4 x 4 relay team is really good, and our hope is to go to states in both indoor and outdoor."
Another field athlete, junior Jing McCann, throws the shotput in indoor track and adds the discus outdoors. (Discus is not an event in indoor track.) In order to perfect her technique, she's not only been working hard with her Fox Chapel Area teams, she also competes at independent meets where her scores can count toward qualifying for the Tri State Track and Field Coaches Association (TSFTCA) meet later in the year.
She might be small in stature, but Jing is anything but short on ambition. She has fierce determination to compete in college, and says, "I've just started powerlifting because I don't have the height some others do, and height matters when you are a thrower. Power lifting is actually really fun and in a really short amount of time, I have already seen a big difference in my strength."
Jing's best throw in the shotput last season in indoor was 31'10", but she believes she can reach 33' this season.
Also, in the mix and looking for big seasons are sprinters sophomores Carlie Barnett and Maurice Sampson-Schulter.
Marks Instead of Scores
As in outdoor track and cross country, the Foxes' distance runners have dominated in indoor the past decade. They are very excited about the possibilities this year, especially the seniors, and they are looking for their best seasons yet.
Brooke Krally, who will run at Duquesne next year, and Grace Sisson return as members of the distance medley relay (DMR) and 3,200-meter relay teams that set a new school record in 2019 and medaled at the TSTCA meet last year. Along with Brooke and Grace, fellow senior Maddy Kieffer joined them on the 1,600 meter relay team and was part of the record-breaking 4 x 200 team. Individually, last season Grace broke an indoor school record in the mile.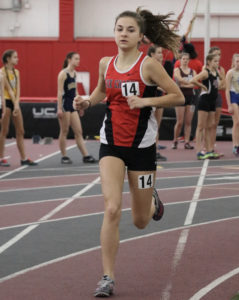 Also returning to the girls team is senior Abby Kiefer. "She will compete in the mid-distance races and hopes to be a member of the DMR team," says Coach Moul.
He continues, "The distance relay team medaling at states in eighth place last year was a very big deal."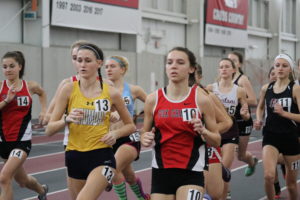 Senior distance runner Christian Fitch, a Temple recruit and one of the Foxes' most prolific boys runners ever, will lead a growing group that is perhaps the largest yet.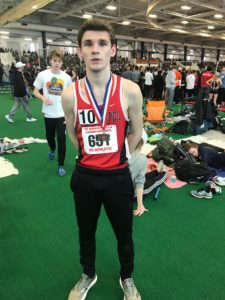 Additionally, a few more athletes from the outdoor team have decided to run indoor too, some of whom just want to get a head start to the outdoor season. They include sophomores Lauren Rabbitt and Kaylee Uribe for the girls. Boys newcomers to indoor track and field are junior John Lucey and sophomore Caleb Kulikowski.
"I'm looking forward to seeing how they progress," adds Coach Moul. "Of course, the proof will be in their performances, beginning with our first meet on Jan. 11."