After winning the PIAA and WPIAL Class 3A championships last fall, some members of the Foxes boys golf team got together one last time to play at 2020 High School National Invitational at Pinehurst Resort in Pinehurst, N.C. The group represented Pennsylvania at the tournament and finished fourth in the nation, only six strokes behind the winning team from Utah, and one stroke behind third-place Virginia.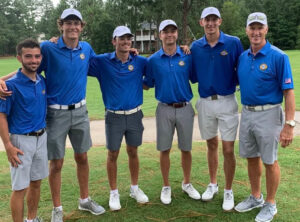 The tournament drew the nation's top golfers and teams to the grueling, three-day, 54-hole event.
"It was great that they were together for one last hoorah," says Coach Bryan Deal. "I couldn't be prouder of them. You have to be 'on' at every hole and there's not much room for error. We had a good first day, but a bad second day. To their credit, the guys  rebounded and on day three, we made big strides and we were right in it. Overall, it was a phenomenal experience to even be in the national tournament."
Representing Team Pennsylvania were 2020 alums Scott Bitar, a Miami of Ohio recruit who finished first among the team's players with a score of 224, followed by Armani Ambrosio, Matthew Mattioli, and Will Livingston. Recent grads Bevin Urso and Arnold Vento also played at Pinehurst and rising senior Aidan Oehrle, the sole varsity player returning to the Foxes' team in 2020, contributed to the team's overall success as well.
Prior to the tournament, the team was ranked 13th in the nation.