Foxes swimmers had quite a day at the WPIAL Class 3A championships. The young, but talented athletes brought home three gold, three silver, and two bronze medals. A new school record was set by the girls 200 medley relay. On the boys team, freshman Zachary Zornan Ferguson broke school records in the 50 and 500 freestyle events earning silver medals, and as part of the 400 freestyle relay team that earned fifth place. Sophomore Sophie Shao was the only female in all of Class 3A to qualify for the WPIAL championships with two first seed placements.
As teams, the girls finished fourth, and the boys earned seventh place, missing sixth by only one point.
The gold medalists include Sophie, the reigning state champion in the 100 fly; sophomore Talia Bugel in the 100 backstroke; and the girls' 200 medley relay team comprised of Sophie, Talia, junior Rei Sperry, and senior Vivian Shao.
Sophie continued to dominate the 100 fly with a time of 54.50. She also was the first-place seed in the 200 IM and hoped she could win that event too. She ended up placing second but still could get a ticket to PIAAs once the at-large selections are made.
"I think there is a good chance I can still qualify for the 200 IM," says Sophie. "Although my times weren't the best, I had really good races with my teammates, especially in the 200 medley relay and the 400 free relay. The environment was very different this year, and I really missed the cheering, but the meet was very organized, which I liked. I was definitely more nervous this year than last year because of the IM and the 100 fly being so close to each other."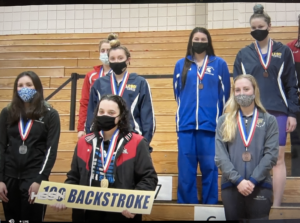 Last season, Talia won the bronze medal in the 100 backstroke, but this year things worked out a lot differently. She won the event and credits her hard work practicing her underwaters as one reason for her success. Talia also earned a bronze medal in the 50-yard freestyle.
In her best-ever race in the 100 backstroke, Rei finished seventh with a time that shaved off a second-and-a-half from her qualifying time. It also was more than a second faster from her time last year.
Finally, the girls on the 200 medley relay team had worked hard all year because they really wanted to win that event.  Not only did that come true with their first-place finish, but they also broke the Fox Chapel Area High School record with a time of 1:45.16, which significantly beat their qualifying time this year of 1:47.18.
"I knew our girls had a great chance to win the 200 medley," says Coach Dan Taylor of the first event of the day. "We were seeded with a 1:47, but went 1:45 last season. I thought if we could do 1:45, we would be right in the thick of things. The girls were spot on with their relay starts and swam incredibly fast. It really set the tone for the rest of the meet."
As the anchor of the 200 and 400 relays, Vivian is the girls team's lone senior to qualify for WPIALs. She was thrilled with her split times in both relays.
Vivian says, "I am extremely happy with my 200 medley relay split (23.90). It exceeded my expectations by a lot! I also was very pleased with my 400 free relay split that was 53.39."

Boys Also Set Records
The boys team added three new team records and Zachary Zornan Ferguson was part of all of them. He had two second-places finishes – the 50 free with a time of 21.14, and in the 500 free in which he finished with a time of 4.33.85. Zachary also was a member of the 400 free relay team that finished fifth at WPIALs and broke a school record with a time of  3:13.39. His teammates in that race were juniors Nate Ross and Holden Smith, and sophomore Aadil Pattada.
"WPIALs were pretty much like I expected," says Zachary. "When I saw I won silver in both events, I was very happy with my time drops and my overall performance in the races. Of course, I was trying to win gold, but I am happy with my silvers."
Most swimmers are either sprinters or distance racers, but Zachary has a unique ability to do both very well. He says, "I don't know why, but I've been able to do both extremes of sprinting a 50 and pacing myself in the 500 or the 1,000."
Additionally, Nate Ross placed sixth in the 200-yard freestyle.
Diver David Manelis, who competed the week before the swimming championships, is a strong candidate for a high finish at states after winning his second consecutive WPIAL gold medal.
Very Difficult to Advance This Season
Qualifying for the PIAA Class 3A meet was quite difficult and competitive this season. Only the gold medalists have an automatic invite. Due to COVID-19 safety restrictions, only the top 16 individuals and top 16 relay teams from each of the PIAAs' 11 districts will get to participate at states. Once the PIAA has collected all of the times from the districts, they will look at each event and the times from across the state and then offer some at-large invitations.
Other noteworthy performances:
The girls 400 free relay team of Talia, Vivian, Rei, and Sophie won a bronze medal
Junior Ariana Pasquella, who finished seventh in the 100 breaststroke
Vivian, who placed 11th in the 100 free
Freshman Isabella Marcos with a time that earned her 14th place in the 100 breaststroke
Junior Julia Stutzman, who contributed as a member of the 200 freestyle relay team
The boys 200 free relay team of Zach, Nate Anderson, Nate Ross, and sophomore Emmanuel Drappatz placed 10th
Aadil placed 10th in the 100 backstroke
Freshman Henry Koloc finished 11th in the 200-yard IM and the 100 breaststroke.
In the 500 free, Nate Ross placed 16th
"I am very proud of the way our entire team competed at the meet," says Coach Taylor. "It was very rewarding to see all of their hard work pay off."