There was one final meet of the indoor track and field season before the Feb. 22 Tri-State Track and Coaches Association (TSTCA) Championships, and it turned out to be a great day for the Foxes. A good number of records already had been broken this season, some multiple times, and, once again, the last meet at Youngstown State University brought out the best in many Foxes' athletes.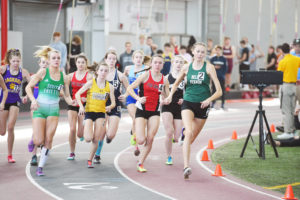 Grace Sisson set yet another indoor record with a first-place time of 5:09.44 in the mile, and now holds the school's indoor running records in the mile, 3K, and 3,200-meter events.
Exchange student Nele Frank set a new school record in the long jump at 17'7.25" and finished first in that event. The previous record of 17'4" was set in 2014. She's also a hurdler and sprinter.
"Nele has been a great addition to our indoor team and plans to participate in the outdoor season too," says Coach Tom Moul. "Even though Nele is tiny in stature, she's got a lot of strength, good technique, and great speed, all of the things that are essential to be good in that event."
Meanwhile, Christian Fitch earned a gold medal in the 3,200 with a time of 9:20.63. Last month, he broke the school indoor record in the 1,600.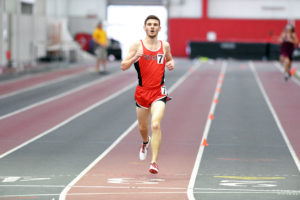 "I was so excited to see Christian get that record," says Coach Moul. "He is one of our most accomplished runners and earned four state medals but had never broken a school record until now. There were a lot of great distance runners who came before him, but I consider him right up there with them, so it was nice to see him get that record time."
Other good performances that day came from Abby Kieffer who placed second in the 800 and broke her own record. Additionally, the 4 x 400 girls relay team of Carlie Barnett, Abby and Maddy Kieffer, and Kaylee Uribe headed the leaderboard with a time of 4:13.01. This time also broke a school record held by the same group.
The qualifiers for the TSTCA meet, which is similar to WPIALs in outdoor track, were just announced and include a great representation from Fox Chapel Area.

Girls Qualifiers
Individuals
Nele Frank – 200-meter dash
Maddy Kieffer– 400-meters
Kaylee Uribe – 800-meters
Lauren Himmel– hurdles
Relay teams
4 x 200 relay team – Carlie Barnett, Lauren Himmel, Alina Stiger, and Kaylee Uribe
4 x 400 relay team – Carlie Barnett, Abby Kieffer, Maddy Kieffer, and Kaylee Uribe,
4 x 800 relay team – Mona Gerges, Gabby Kline, Amanda Lisotto, and Riley McIntyre
Distance Medley Relay (DMR) team – Abby Kieffer, Maddy Kieffer, Brooke Krally, and Grace Sisson
"Brooke, Grace, and Abby gave up individual qualifier races to put them in the best position for their relay team to qualify for states," says Coach Moul. "States is by no means a guarantee, but running fresh will put them in the best position to get there. Last year's DMR team medaled at states, and Grace and Brooke were part of that team. This selflessness is what makes a good teammate – sacrificing individual accolades for the good of the team. Fox Chapel Area seems to have those type of kids." 
Field Qualifiers
Nele Frank – long jump
Jessica McCann – shot put
Zoey Zoschg – triple jump

Boys Qualifiers
Individuals
Christian Fitch – 3000-meters
Evan Kieffer – 400-meters
Maurice Sampson-Schulter – 60-yd dash
Relays
 4 x 200 – Jarred Helgert, Evan Kieffer, John Lucey, and Maurice Sampson-Schulter
4 x 400 – Ethan Flanders, Jarred Helgert, Evan Kieffer, and Warner Macklin
4 x 800 – Ethan Flanders, Ethan Napolitan, Jacques Moyes, and Oscar Oliva
Distance Medley Relay – Shane Funk, Jaques Moyes, Ethan Napolitan, and Oscar Oliva
Field Qualifiers
Caleb Kulikowski – shot put
John Lucey and Mike Prato – high jump
Warner Macklin – triple jump
"I'm hoping we'll finish strong with some medalists at the TSTCAs," says Coach Moul. "After that, we should have some state qualifiers, which is always the goal. It's obviously difficult to get to states. For indoor track, there are less competitors, however all classifications (A, AA, AAA) are competing for the same spots. So, it's quite an accomplishment to make it."