Michael Frank and his wrestling coaching staff are pretty thrilled with their team right now after six athletes medaled at the recent Fox Chapel Area-sponsored Allegheny County Wrestling Championships. It is the most award-winners the program has had in more than 10 years. The Foxes' achievements can perhaps best be appreciated when considering that, among the 368 participants, some of the WPIAL and PIAA's top wrestlers were represented in nearly every weight class. As a team, the Foxes finished ninth among a field of 35 schools.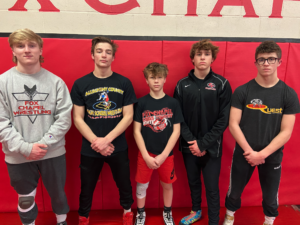 Representing the Foxes at the podium were:
Ray Worsen, senior – 3rd place, 138 lbs.
Alex Kaufmann, sophomore – 4th place, 145 lbs.
Trevor Katz, junior – 7th place, 172 lbs.
Josh Alexander, sophomore – 7th place, 126 lbs.
Landon Funk, freshman – 7th place, 106 lbs.
Jacob Patterson, senior, 8th place – 189 lbs.
"Overall, I'm very pleased with how we wrestled," says coach Frank. "We were the only team that entered the maximum number of 18 wrestlers to compete. This allowed us to enter multiple kids at some of the weight classes, giving more of our team an opportunity to wrestle.
"I think we competed at a high level all weekend and bringing 11 wrestlers back for day two was a great accomplishment. I know there are some matches that we want back, but that will happen when we wrestle close to 80 individual matches on the weekend. I feel like we've made some improvements in the last month that definitely showed, and there are obviously areas that we know we need to focus on as we head into the homestretch of the season."
Ray, whose overall record as of January 20 is 11-6, had a very strong showing at the county championships. He dropped his quarterfinal match but won four straight bouts to place third. He had a dominant performance over the weekend, including four pins and one technical fall. His final individual record of 6-1 was the team's best. Ray's third-place finish was the program's best since 2020 when Ed Farrell, a senior at the time, won the 220-lb. weight class.
"Ray has been focusing on taking advantage of situations where he is strongest, and it showed going 6-1 and taking third place," says coach Frank. "He picked up a bunch of pins, helping the overall team score as well. One thing I thought he did exceptionally well was staying within himself during each match. He was focused and didn't get away from his game plan."
Ray adds, "My weight class was a really competitive one this year and had one of the biggest brackets in the county tournament. My strategy going in was to stick to my strengths. I wanted to score when I could in the first period and not expose myself to ties and locks, while keeping in constant motion. And, I wanted to remain calm even in tough situations."
With a 16-6 record, including an additional win in the days following the tournament, Alex found the county bouts were a lot grittier than he'd faced before. His fourth-place finish was hard-fought, and although it was a great conclusion for a sophomore who hadn't even participated last year because the event was canceled.
"This was the biggest tournament I've wrestled in for the team," Alex remarks. "I had never wrestled any of my opponents before, but I enjoyed seeing the new competition. I got to see some very high-level wrestling, and now I know where I need to be and what I need to improve on for next year's tournament. I think that the coaches' instructions throughout the tournament and my matches really helped me in many regards, including having the right mindset going into them."
Coach Frank praises his young wrestler's efforts. "He's finding out how to manage matches to his benefit. He's making some strides in positions that he struggled in early in the year, and it's improving his overall wrestling."
Overall, the championships gave both the coaches and wrestlers a good idea of what they will face as they work toward the end of the season. Individual postseason section championships won't be until the end of February, but in between, the Foxes have several more tournaments and non-section meets, including their final home meet on February 4 at 7 p.m. versus Gateway. That competition has been designated as alumni and youth wrestling recognition night.