­­­Six Foxes baseball players were hitting over .400 going into the spring break, placing the team in a good place offensively as they double down for the remainder of the regular season.
Senior Tommy Fravel leads the team with a .571 average and is backed by fellow seniors Vince Reiber (.565), Jake Patterson (.478), and Jake Donovan (.462), and junior Zach Johnston (.538). Sophomore multisport athlete Ben DeMotte leads all underclassmen with a .421 average. While their bats are hot and the players are showing more pop than last year, coach Jim Hastings still wants to see more fine-tuning if they are to compete for the WPIAL 5A Section 2 title and return to the playoffs.
The coaches and players remember all too well how last season ended and do not want to repeat that. While the team's section record was great at 9-3, the Foxes were the runners-up to Mars, and their subsequent loss in the first round of the WPIAL playoffs was disheartening. So, the group put in a lot of work since then to be able to take care of unfinished business this season.
One thing coach Hastings likes about this team is how many leaders have stepped up, including some underclassmen. He says, "A lot of kids are playing very well, and the lineup has exceeded my expectations so far. Besides our strengths at bat, left-handed pitcher Jake Patterson has continued to impress again and was a leader in the offseason. He's intense and focused, and, after pitching 14 innings, is 3-1. Tommy is also a lefty and throws a mean curveball. He is resilient and has a 1-1 record so far, including a come-from-behind win. On the mound, we're also excited about a tremendous freshman, Jeremy Haigh, who is very mature for his age and is 1-1 in 12 innings. But what it all will come down to is simple: Can we throw enough strikes and make enough plays? If that happens, we are going to be a very good team."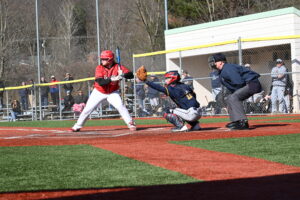 Tommy throws at an angle most batters aren't used to and gets a lot of movement with this curveball, according to his coach. He also holds down first base, a position he's played his entire baseball career. He says, "I have strengthened my ability to bring in errant throws while holding the bag. This helps us get more outs and puts less stress on the pitcher. Overall, with each game, we are getting better and fixing the little things, while building our team chemistry. I try to be a spark that lights the fire. We play our best when every player on the team is up and active."
Tommy also is quick to credit Ben and Jeremy for their contributions. "They both have been called upon to play key roles in getting us where we want to be in the section. They are natural leaders who will continue to benefit this team for years to come."
Meanwhile, Vince, whose speed and arm strength have made him indispensable in center field, also serves as the team's leadoff hitter. Known for his ability to do whatever it takes to get on base, Vince spent a lot of time in the gym to improve upon his .300 batting average from last year. It's paid off with his increased gap-to-gap power at the plate. He also focused on tweaking his swing and spent a great deal of time practicing hitting the ball to all sides of the field and hitting off-speed pitches.
Vince shared his thoughts on the steps the team took to be better this season. "We all worked really hard in the offseason, starting back in August. We were able to get a fall season in and some hitting and conditioning sessions before winter break. From January until the start of the season, we consistently practiced at least three times a week, which was very helpful in increasing all of our skills. One great thing about this team is that even when we don't have practice or a game, we are always hitting together and offering tips for improvement. This is such a tight-knit group of guys, and we are always pushing each other to get better."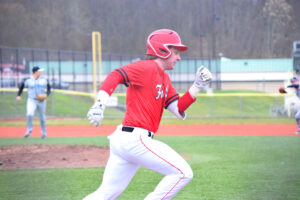 Third baseman Jake Donovan has a goal in his final year of high school, and it's to win the section title.
"That was something that we were so close to last year, and we feel as if we should have won, if not for a few mistakes. We know we are able to score runs against most teams, so it's just about going out there and limiting the amount of walks and errors. Everyone is just so much more experienced than last year. We can kind of see what's happening before it happens, just based on the stuff we have seen before. The majority of guys have played a significant number of innings, so there really isn't a situation that we see that we haven't practiced at least on time."
Also playing key roles are Jake DeMotte, a standout on the Foxes WPIAL 6A champions basketball team, Will Burger, catcher Jack Resek, and designated hitter Rooney McManus.
"We have a group of great, talented guys," coach Hastings says. "Every year, we have high expectations with goals to win the section and playoff games. We have the potential to do both this season. The team and our coaches are really excited about playing and what lies ahead."