The annual Baldwin Track and Field Invitational is the largest event of its kind in the region, drawing about 100 schools from each of the three WPIAL classes. The best of the best athletes compete there and their results are good indicators of who will advance to the WPIAL championships. Foxes freshman Laura Carter is one of the racers who will be among those at the May 19 WPIAL event after she won the 1,600-meter race. Laura set a new personal record of 5:14.25 in the event,10 seconds faster than her original personal record so far in her budding high school career.
"It was a fast race, and the conditions were really good," says Laura, who hasn't run track since she was a seventh-grader due to the cancellation of last year's spring season. "I'm still surprised I was able to keep the lead for the entire race."
Besides her track talents, Laura qualified for states in cross country in her maiden high school season in the fall of 2020.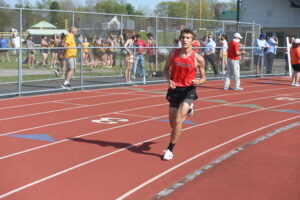 Junior Jack Lorence in the 3,200, and senior Domenica Delaney, who placed fifth in the 100-meter hurdles at Baldwin, are also anticipated to be among the qualifiers.
"Laura and Jack should qualify for WPIALs, running the 3,200," says Coach Tom Moul, who notes that Laura also runs that event. "Domenica should also make it in the 300-meter hurdles, as well as the 100-meter hurdles, but she's aiming to get in the fast heats.
"Laura has exceeded my expectations as a freshman and continues to make good progress. She is running like a veteran."
Jack has been another big point-earner for the Foxes all season and has been chipping away at his times by increasing his mileage over the past year and gaining more strength.
"I think the biggest difference in my running this year is just being patient and calm and knowing when to make a certain move," Jack says. "I have an 'Eye of the Tiger' mentality now, and I think I've been racing very smartly. I also think a lot of my improvement has come from just having more experience. I'm right where I want to be, and I'm so excited to see what's ahead at WPIALs."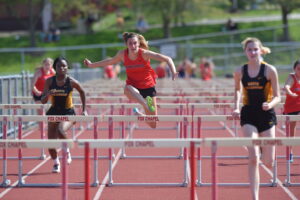 "Domenica just loves track, and she is a competitor," says Coach Moul of his hurdler and sprinter, who might be best known for her dominance on the basketball court. "She has a very calm demeanor about her and the way she runs is very even-keeled and smooth. Her goal is to get into the fast heats in the 100- and 300-meter hurdles, but there are a lot of really good girls in those events."
Domenica says, "I started doing track in my sophomore year to stay in shape in the offseason and to try something different. I think I've progressed a lot since then, especially in the 100-meters because I've been able to do get down to a three-step (approaching the hurdles), which cuts down on my time in between hurdles."
Junior runner Maurice Sampson-Schulter could be a contender in the 100-meter dash, as could the girls 4 x 400 and 4 x 800 relay teams and the boys 4 x 100 and 4 x 400 relays. Also, seniors Ben Wilk (110-meter and 300-meter hurdles), Shane Funk (3,200), and Cam Wilson (400 dash) are vying to qualify.
After all times and marks from all schools are submitted, the top 24 athletes in each event will secure spots at the WPIAL Class 3A championships.
Field Athletes Also Do Well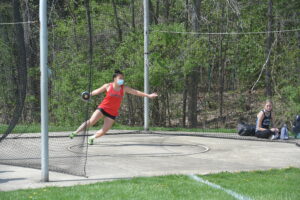 In the field events, senior Jing McCann continued her seemingly weekly streak of breaking her own school records in the discus. This time she topped her record by more than five feet with a throw of 123'02" and placed fifth. Senior Caleb Kulikowski excelled in the javelin with a personal best of 156'08" and placed second. Coach Moul predicts Jing and Caleb will each qualify for WPIALs in at least one event.
Additionally, seniors Dorian Gomez's and Elena Perez's distances in the triple jump may be good enough for them to also advance.
"After not having a season last year, we've been grateful for this one," says Coach Moul. "The kids have shown a competitive spirit that will hopefully take us to the WPIAL meet. Our goal is always to perform our best in the biggest meets. The WPIAL meet is obviously the biggest one and the most important of the season. We hope to have some athletes qualify for states at that meet."