Among the many wrestlers on the Foxes squad this year are seven females who are brand new to the sport but have eagerly taken on the challenges of the physically and mentally grueling activity. They are a great addition, says head coach Michael Frank, saying the whole group has been welcoming to them.
The contestants are seniors Eleanor Fox and Shannon Held; junior Ava McCaffrey; and sophomores Marina Dunham, Caroline Slember, Andrea Wang, and Yuqi Zhou. Junior Molly O'Donnell is the team manager of the coed team.
Although Shannon had not wrestled before, she had wanted to try it out since she was in middle school, but no girls were participating at that time. Her father also was a bit concerned about her choice. Shannon has always considered herself somewhat of a maverick, so when she entered her senior year of high school, she asked her father to allow her to try the sport, and he agreed as long as she promised to finish out the season, no matter how tough it was.
Since then, Shannon, also a member of the Foxes' championship softball team, has won some matches and lost a few, but she has the drive to continue. "The coaches have helped me to see that I'm not losing if I don't win a match; I'm learning."
"For the most part, they wrestle with each other in the practice room," says coach Frank. "As they've started to understand more, we have started to have them drill a little with some of the boys, but not live wrestling yet. Getting the opportunity to compete over the past two weeks has been great because they can see what skills they need to continue to develop. It's also been very helpful for us as a coaching staff to identify what things we can help them with."
Plum has an official girls' team, so the coaches from there and Fox Chapel Area worked together to organize matches with as many girls as possible.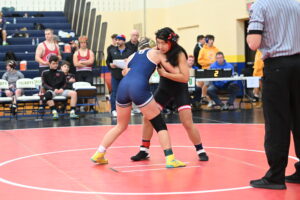 "It was the first time that most of our girls had a chance to wrestle a match, so it was great for them to get that chance to compete," coach Frank says. "Yuqi picked up a pin that night in a great match."
North Allegheny, one of the first local teams to officially recognize a separate girls wrestling team, also set up a recent tournament just for girls. More than 70 females from schools all around the area competed. The Foxes had an opportunity to grapple multiple times against representatives from North Allegheny, Connellsville, Southmoreland, and Saegertown high schools, to name a few. Eleanor earned 3rd place and went 3-2 for the day. Ava and Caroline both finished in 4th place.
Despite tough practices that have, at times, left her sore to the core, Shannon says, "This is my thing now. I do a lot of out-of-the-box things, and this is one of them. It gets me out of my comfort zone and helps me to be a better, stronger person."
At this point, the girls have said they just want to learn and compete against other girls. However, if a female earned a spot in the starting lineup, she would be entitled to wrestle either gender.
Coach Frank cites the statistics of female participation in the sport. "As of now, there are 91 schools in Pennsylvania that have approved a girls wrestling program. For the PIAA to officially sanction girls wrestling, that number needs to reach 100. There are currently more than 1,500 female wrestlers listed in grades 7-12 in the state. The numbers are growing very quickly."
Fox Chapel Area's swell in the number of females who want to try the sport are local proof that wrestling is not just for boys anymore.