Eli Yofan can't remember a time when he wasn't involved with sports and says they literally consume most of his childhood memories. Since those early years, basketball star Eli has gone on to become one of the best, if not the best multisport athlete to ever come out of Fox Chapel Area High School, especially after the senior broke the school's all-time scoring record on an alley-oop layup during the second period of the February 8 game against Norwin. The previous record of 1,437 was set during Matt D'Amico's four years at a starter from 2010 to 2014. 
Eli's career tally now stands at 1,446 points, but there two games remaining in the regular season and then the WPIAL Class 6A playoffs, for which the team already clinched a spot several weeks ago. No doubt, Eli will continue to rack up points for the very talented 2021-2022 team that's 19-1, on a 19 game winning streak, and close to winning another section title with a 9-0 record. 
Over the four years Eli has been with the team, he has always been sure to give credit to his teammates for their contributions in getting the squad and himself to the level of success they have enjoyed. His thoughts about breaking the scoring record follow suit. "It's great, but we have our sights set on bigger, more important things, like a WPIAL championship."
Someone who has witnessed Eli's brilliance and progress on the court throughout the years is Zach Skrinjar, who celebrated a milestone of his own the week before when he notched his 200th career win as the Foxes head coach. He recalls Eli's athleticism, even at an early age. 
"When we saw Eli at our clinics, we knew he was very athletic, but weren't quite sure if that would ever translate into him becoming a great basketball player," says the coach, and, with a chuckle, adds, "Obviously, it worked out."
Coach Skrinjar has myriad other recollections of Eli, who was named last year to the all-state and all-WPIAL teams last season, as a member of the Pittsburgh Post-Gazette Fab 5, and honored as the WPIAL Class 6A player of the year. 
"It's kind of funny, but one of my other first memories of Eli was at a spring clinic that we held," reminiscences the coach. "When I walked into the gymnasium, all of the players were just standing around watching one player. I asked a camper what was going on and he told me Eli had just dunked. I immediately asked the other coaches, 'Who is this Eli kid, and what grade is he in?'" 
Eli had the height to first try dunking when he was in sixth grade. He started the process by just going up and trying to touch the rim. By the time he was in eighth grade, he surprised himself when he got his first dunk. That is the point when assistant coaches Joe Farrell and Gabe Skrinjar, and Zach Skrinjar, all agreed that, when all was said and done, Eli was going to become the all-time leading scorer at Fox Chapel Area High School.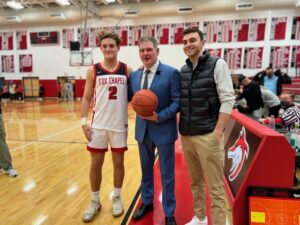 The Journey 
But Eli says his basketball dream when he made the Foxes varsity squad when he was a freshman, was singular. He wanted the team to win a WPIAL championship, which still remains his ultimate goal to this day. He says, "I never really thought about breaking an all-time school record. I didn't even know what it was, and honestly, I didn't even care back then."
After reaching his 1,000th point last year, Eli still wasn't aware of what the scoring record was, but that changed this season. 
"This year was a little different," he says. "I found out what it was and knew I was going to come close, or maybe break it. It's a milestone and awesome, but we have our sights set on more important things this year, that's for sure." 
Winning a WPIAL championship has always been his ultimate goal, no matter what the sport, and he's played many throughout his high school career. He played soccer in his freshman and sophomore years but gave it up to join the golf team. In only two years, he became the WPIAL Class 4A individual golf medalist and advanced to the state championship. There, Eli's PIAA score represented the Foxes' highest finish since 1999. In volleyball, a team he joined as a junior, Eli garnered all-WPIAL honors. 
Eli's instincts are so keen that they place him on a different level than a lot of other athletes. In basketball, they help him to make good decisions and create opportunities for himself and others, and are especially evident on defense through his deflections, steals, blocks, and rebounds. 
Gabe Skrinjar supports that assessment and says, "Eli plays fearlessly and is explosive with the ball. He is just always in the right spot at the right time. He has the natural ability to take over any game, but always gets his fellow players involved. It's a sign of maturity and something that has always impressed us."
As they are designed to do, sports have affected Eli in many other ways than what he sees on the scoreboard. 
"Through sports, I've gained confidence and learned that I can achieve anything I put my mind to," says Eli, which extends to the classroom where he has a 4.2 QPA earned by taking all Advanced Placement and accelerated classes. 
"I'm super competitive," he notes, as if there is anyone who doesn't already know that. 
"I'm just very proud of how Eli has developed as a player and a young man," says coach Zach Skrinjar. "He embodies everything positive about high school sports, from his academics, his play, and to the bond he has with his teammates and coaches. Although it's an individual achievement for Eli, it's also such a team accomplishment. It takes 10 hands to make a basket, and a lot of hands over the years contributed to this accomplishment. Eli is and always has been a special talent – and now we can add Fox Chapel Area all-time leading scorer to the list."