Erik Wilson pretty much came to the sport of basketball organically. His grandfather was a coach, and he and his father had encouraged him to play since he was in preschool. Now, the senior guard is a cornerstone of the Foxes boys varsity team on both ends of the court. He has proved multiple times that his consistent hustling, defense, rebounding, and shooting have made him a game-changer.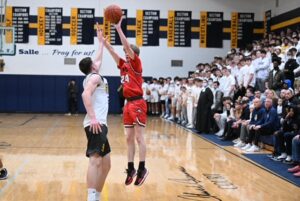 A mild-mannered senior, Erik would rather let his performance on the court speak for him. He has done that already this season beginning with the team's first game at the Upper. St. Clair Tip-Off Tournament. 
"Erik's motor is always full go," says head coach Zach Skrinjar. "He played amazingly at that tournament, especially against Upper St. Clair, and put on one of the best individual performances I have seen from a player in a Fox Chapel Area jersey. That game, and his consistency since then, earned him 'The Chain,' twice. ("The Chain" is the player of the game award). He is the kind of player who doesn't need to be in the limelight, yet he wants to do whatever he can for his teammates and to win. I'm very proud of him."
Erik led the junior varsity team last season and was one of the first players off the varsity bench. He worked hard over the summer with a positive attitude so he would be ready for his senior year. During the past three years, he also learned volumes from the five seniors who led the 2021-2022 team to win the WPIAL Class 6A championship and the PIAA semifinals. 
"They taught me about the importance of playing team basketball," he says. "They also taught me that anything is possible if you put your mind to it and work hard."
"Erik is a complete player, and that makes him very valuable with the style of basketball we play," says his coach. "With a whole new lineup and many younger players, I didn't really come into the season with any kind of expectations. So far, they have kept up the high standards that we set for this program year after year, and Erik certainly has met them and then some."