Although there are many great and dedicated high school coaches, Foxes' cross country and track and field coach Tom Moul might have taken his support of his student-athletes to a new level. After three years of research and stop-and-go efforts that took him down memory lane, he completed a Wall of Fame located in his physics classroom that recognizes some of the school's most accomplished runners during his nearly 20-year tenure with the program.
Months of Research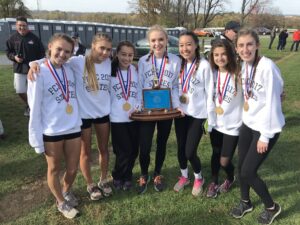 Collecting the data took the longest amount of time, but locating pictures from decades ago also wasn't easy either. When he completed all of the documentation, Coach Moul then labeled each display with the list of events and medals for each athlete and placed it on the Wall.
"I had fun putting this together to recognize the really big accomplishments and impressive feats; otherwise, they might be forgotten," says Coach Moul. "I did research from before that too; I just don't have stats from before they started keeping records online via the MileSplit website." He notes that the athletes who are recognized on the Wall also can be viewed on the athletic department's touch screen monitor located near the gym.
Coach Moul explains the standards he set for the selection process. "The criteria for getting in is simple: WPIAL or state medal. The ultimate prize for a competitor in track or cross country is a medal at a championship meet. For us, that's WPIALs and PIAAs (or PTFCA in the case of indoor states). Making the podium at a championship meet is a very impressive feat. Only the most talented, dedicated, and tough athletes can achieve this."
State Champions
Fox Chapel Area High School has had three PIAA Class 3A state champions – two individuals and one team that topped the podium at the PIAA Class 3A championships. The 2017 girls cross country team won the state title for the first time in school history. Members were alums Annika Urban, Sarena Seeger, Brooke Krally, Grace Sisson, Caelan Miller, Izzy Doerr, and Anna Folkerts. Also, in 2013, Ethan Martin won the 3,200-meters event in outdoor track, and the next year, brother Colin won the 3,000-meters in indoor track.
Most State Medals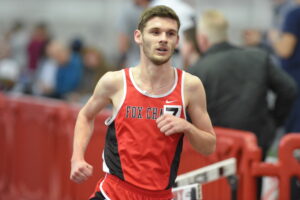 Boys
Colin Martin – 6
Ethan Martin – 5
Christian Fitch – 5 (missed his senior track season due to the pandemic)
Elias Graca – 2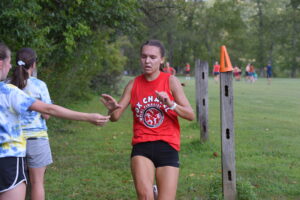 Girls
Sarena Seeger – 4
Grace Sisson – 3 (also missed senior track season due to COVID)
The youngest student-athletes to medal at states were Sarena Seeger and Ethan Martin when they were sophomores.
The Wall of Fame also highlights the achievements of Foxes WPIAL champions and medalists.
WPIAL Individual and Relay Team Champions
2015: 800 meters – Elias Graca
2013: 1,600 and 3200 meters – Ethan Martin
2014: 3,200 meters – Colin Martin
2013 and 2014: 300 hurdles – Brandon Mitchell
2013: 4×400 relay team – Elias Graca, Brandon Mitchell, Brian Papich, and Mike Mawhinney
2014: 4×400 relay team – Elias, Brandon, Brian, and Andrew Golio

Most WPIAL medals
Boys 
Brandon Mitchell – 8
Ethan Martin – 7
Brian Papich – 6
Colin Martin – 5
Elias Graca – 5
Christian Fitch – 5
Girls
Sarena Seeger – 8
Kate Carnevale – 7
Rachael Humphrey – 6
Caelan Miller – 5
Grace Sisson – 5
Annika Urban – 5
Although the Foxes have not had a WPIAL team champion, four squads have been runners-up four times, all in cross country. Of those place-finishes, two were girls teams and two were earned by the boys.
Coach Moul says, "We had two individual additions to the Wall postings this year in cross country and both were freshmen.  Laura Carter and Clara Kelley both medaled at WPIAL cross country championships this past fall."
Unfortunately, no one will be added to the Wall of Fame for the 2020-2021 indoor season.
"The season was not canceled, but due to the pandemic, many meets severely limited our options to compete," adds the coach. "We normally would travel to Ohio for indoor meets at Youngstown State University, but the PA Department of Health requires quarantining when returning from out-of-state trips, so we couldn't attend those."
Yet, team members are continuing to train as weather permits and they are anxious to get outdoors and compete again in the spring. Last outdoor track season year was a huge disappointment for the athletes, as it was called off due to COVID-19 protocols.
"I'm very excited for the team to compete this spring," says Coach Moul. "The kids have been 'embracing the process' of training, but you train in order to compete, so I know they're really looking forward to finally putting their hard work to the test in March during the outdoor season. I'm also excited for the seniors to have a strong finish to four years of hard work.  They certainly deserve to have a full season to go out on."