The Foxes' cheerleaders are used to leading fans and boosting spirit and enthusiasm in support of the high school's many teams, but now it's very much their turn to be on the receiving end of that applause. The 13-member competition squad recently received a bid to compete at the National High School Cheerleading Championship (NHSCC), the most prestigious high school championship in the country. It is the first time in school history that the program has qualified for nationals.
The event will be held at Walt Disney World Resort in Orlando from February 10-12.
Junior Mia Pietropaolo, a three-year member of the squad, recalls the trajectory of the team, saying "At the beginning of the season, we had a difficult time because we had a completely new team and then had some obstacles to overcome. Our team was small, but we were resilient and motivated to do well this season. We competed in a few competitions to make us more confident and strengthen our routine. When we got our bid to nationals, we all were super excited because we worked so hard to get to this point."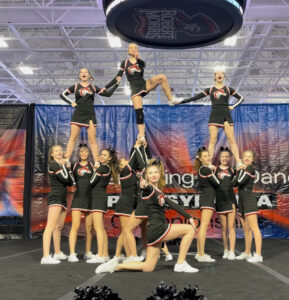 Coach Aleta Balcer says their work is not done yet in preparation for the required two-and-a-half-minute routine, which includes a one-minute cheer, a dance portion, a pyramid, and partner stunts. The squad will compete in the small varsity non-tumbling division and will be judged on the difficulty and execution of cheer, partner stunts, pyramid, jumps, dance, crowd leading, and overall performance.
"We are definitely working to increase the difficulty level in our stunt and pyramid portions of the routine," says the coach. "We have also changed the cheer up a little bit to hopefully increase crowd appeal and involvement."
Their dance routine will remain the same, as it is continually ranked the highest in their performances.
Coach Balcer adds, "We have competed in quite a few competitions this year, and on every score sheet, the judges made a comment about how good the dance portion was. There are parts to improve, but the routine portion is fun to watch. It's full of energy and excitement."
Alexandra Vita is a sophomore and one of the bases on the team. She admits she was a little surprised to learn they had received an invitation to nationals, but she knew the team had worked very hard for it and that it was well-deserved.
"The coaches pushed us to try new things and to take it up a notch this year," says Alexandra. "We have improved a lot since last year. We go for quality over quantity. We solidify the stunts to the point where they look clean which in the long run gets us more points. We also do well with jumping. We jump constantly. Each practice we jump around 15 jumps, which helps to make them perfect."
Another aspect of their practices that has led to improvement is an increased emphasis on strength and conditioning.
"It's been very beneficial," coach Balcer says of the girls' participation in the high school's program. "We have the girls work out in pairs, and they motivate each other. It is definitely a must for us."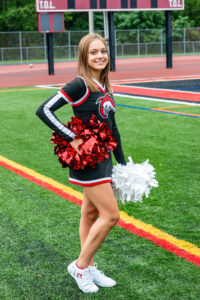 Mia, who, in addition to being a flyer, does individual stunts, says she has noticed a big difference in the team's overall power and stamina.
Mia comments, "Strength and conditioning are important, especially for our stunting. Our bases need to strengthen their arms and legs to be able to lift the flyer. Flyers need to strengthen their legs and cores to stay stable while up in a stunt. I have seen the bases getting stronger over the season. They can do harder stunts and keep improving every day. The flyers are getting more stable in the air standing on one leg when we do a stunt called a liberty."
"At the end of the year, we can look back and say we have done something no one else before us has done," adds coach Balcer. "I am very proud of this team and my coaching staff."
Members of the squad are seniors Kathryn Billings, Anna Li, and Isabella Stipetich; juniors Fiona Brown, Mia Pietropaolo, and Sophia River; sophomores, Maurena Cilenti, Mary Ann Frauenholz, Gretchen Shelestak, and Alexandra Vita; and freshmen Catherine Conway, Trista Jackson, and Emma Kurtz.