Two-time WPIAL and PIAA doubles tennis champion Charlotte James earned her first solo gold medal Sept. 19 when she upset top-seed Bethany Yauch from Baldwin, 6-4, 6-4 at the WPIAL Class 3A singles finals. With the win, Charlotte, a senior, became the first Fox Chapel Area High School female singles player to win the 3A crown.
It was a grueling match that had the girls battling all afternoon. Charlotte, the third-seed behind Bethany and Mia Gorman of Bethel Park, said she felt confident going into the finals after beating Bethany in a tie-breaker at a regular team match earlier in the week.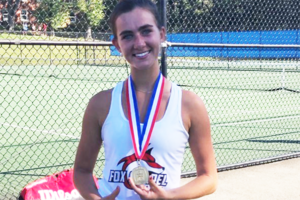 Charlotte told the Trib HSSN, "I think I just needed to settle into the match. She came out and was playing some really good tennis, so I knew I was in for a battle and a fight, because she never gives up, and she's really tough. So, I just did what I needed to do today."
But the past 10 days prior to the championship were filled with many ups and downs. In the recent Section 3 playoffs, Charlotte lost to Mia Gorman, 7-5, 4-6, 7-6 (7-3) in the semifinals, and Bethany won the tournament. Charlotte placed third in the consolation match.
"Obviously, being in the same section, I've met some of these girls a lot recently," Charlotte says. "After playing them in such a short period of time, it was exciting to pull out the win in the finals."
While Charlotte loves playing doubles, winning in singles is special because she did it all on her own.
"It's just really exciting, and I'm proud of the way I played," she says.
Charlotte adds, "Coach Slezak has played a very important role my success and ability to overcome adversity, especially leading up to the championship games. He's really been amazing and so supportive. I wouldn't be where I am now without him."
Coach Slezak says, "We navigated 10 days of ups and downs, and at the level of tennis Charlotte plays, the game is much more than forehands, backhands, and tactics.  All players at that level have those physical and mental skills, but the difference maker is the emotional skills, or what some refer to as mental toughness.  Those skills allow a player to be clutch. Charlotte deserved to win the singles title, but she also deserves the credit because I may have helped her, but she is the one who went out there on the court, dove into the pressure instead of running from it, and did it."
The PIAA Class 3A singles championship won't begin until November 1-2 at Hershey Racquet Club, but in the meantime, Charlotte will be leading the undefeated Foxes' team in the WPIAL Class 3A Section 3 team championships to be held the week of Oct. 14. The Lady Foxes will enter the tournament with a very strong singles lineup and two promising doubles teams.