At the beginning of the summer when the Foxes boys cross country team started training for the upcoming season at North Park, Coach Tom Moul already was assessing what he thought the possibilities could be for his runners, individually and as a group. First, he needed to see how his athletes fared after not running for a while, but he knew where he wanted them to end up and expressed his vision at a team meeting. His goal was for the varsity team to improve upon their seventh-place finish at the 2020 WPIAL Class 3A championships. He thought they had a chance, given the level of talent, their experience, and having a top runner in senior Jack Lorence.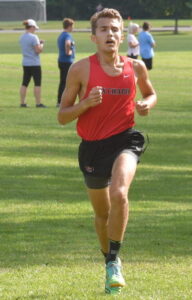 Senior runner Owen Carter had more specific goals in mind. He predicted the team could finish fourth or fifth at WPIALs, but placing third, the cutoff for qualifying for the PIAA tournament, would require "an awesome performance."
At the recent WPIAL Class 3A championships, the team gave that "awesome performance" and placed third, which qualified them to move on to the PIAA tournament on November 6 in Hershey. It is only the third time in school history – and the first time in seven years – that a Foxes boys cross country team has advanced to the state competition.
"What I like about this team the most is that they are a group of kids who all are very good runners with a great work ethic," says Coach Moul. "Jack is on par with the best runners in the WPIAL, and the rest of the guys are around the same level. They train at similar running paces, and, thus, they race together. This helps tremendously when you're in the heat of the battle and you see your teammates racing near you. It's the sum of their talent level that puts them in a position to compete at states."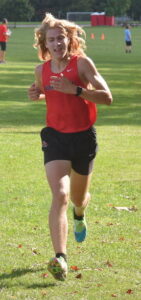 The coach also pointed out a big difference from when the last boys teams went to states in 2012 and 2013. He explains, "They had three future (NCAA) Division I runners on those teams. This time, we have seven guys who are competitive as a squad, and sometimes that is just as important. They really have shown the power of teamwork, and I'm excited for them."
Owen ended up playing a crucial role in the Foxes' finish. Coach Moul elaborates, "For Owen to step up and finish as our No. 2 guy was key for us."
Afterward, Owen said, "I feel that I pushed myself mentally and physically and was able to move up in my placement in the last mile. At first, I didn't know where we were as a team, but when I heard the other guys yell, I knew we made it to states and was super excited."
Throughout the year, seniors Jordan Gwin, Ethan Napolitan, and Alex Staud also added to the strength of the team, and sophomore Rowan Gwin and freshman Ethan Vaughan showed promise for the future of the program.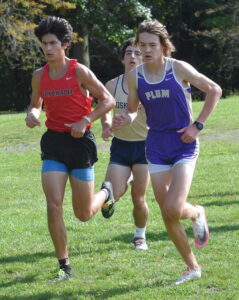 "Alex missed his whole sophomore year with an injury, including track, so I'm very proud of how he's come back to be a varsity-caliber runner," Coach Moul says. "Jordan also missed last season, but he had a very good year in track in 2021, and that has propelled him to success in cross country. Ethan Napolitan has been a solid, steady performer for us and has provided great leadership for the past four years. Ethan Vaughan was a nice surprise this season. He won the JV race at the Bald Eagle Invitational and earned a varsity spot, where he's remained ever since that race. He has a good way of pacing himself for someone so young, and he comes on strong at the end. We wouldn't have made it to states this year without him."
Steady and Impressive All Season
The team's success at WPIALs follows an impressive undefeated season and is the third consecutive section championship. The group kick-started the season by winning the Gateway Invitational; placed third among 28 teams at the Class 3A Red, White, and Blue Classic; and finished second at the Tri-State Track Coaches Association meet, an event that serves as a "tune-up" for WPIALs.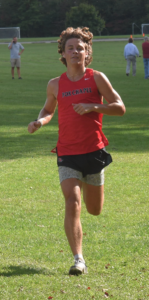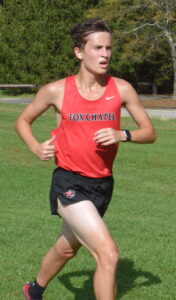 According to Coach Moul, many schools' end goal is just to qualify for states, but he looks at it a little differently, saying "If making it is your main goal, when you get there it's almost anticlimactic. But our goal is to prepare for one more big race, do something special, and perform better than our ranking."
For Jack, it's a great way to cap off his senior year with his friends and teammates. "We've been trying to get here for so long. Every single person did his part and was integral in us making it to states. When we're in Hershey, I think we'll be extremely competitive, but whatever happens, I know we will do the best we can, and that's a good goal."